Special Collections
---
Services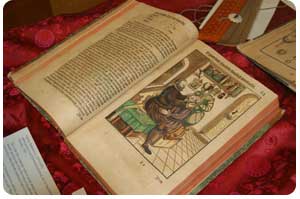 The Galter Library is open to Northwestern University faculty, staff members, students, and alumni; however, the Special Collections Department is open to all scholars who wish to use the Library's historical materials. Please contact us prior to coming to the Library for information on how to access the collection. We can be reached at 312-503-8133, by email, or by U.S. mail: 303 East Chicago Avenue, Chicago, IL 60611.
Reference and research services are available in person and by telephone, fax, email or postal service. Services are generally available 9:30 a.m. to 4:30 p.m., Monday through Friday, preferably by appointment.
Some services such as scanning and printing, photography, and research are fee-based. Please contact the us for details.
For a list of some relevant resources, see the History of Medicine GalterList complied by librarians.
---
Collections
Special Collections consists of four primary collections
Special Collections also includes:
Approximately 4,000 medical and dental portraits, caricatures, and engravings
A small manuscript collection representing physicians such as J.B. Murphy, William Osler, and Benjamin Rush
Various artifacts, such as medical & dental instruments and microscopes
Manuscript material from the Northwestern University Medical School and Dental Schools
Particular strengths include works by:
William Harvey, Ambrose Pare, Thomas Browne, John Hunter, and selected figures in Chicago medicine and dentistry
Works before 1800 include:
Incunabula: four works of Saints Thomas Aquinas and Albertus Magnus and Pietro d'Argellata
Sixteenth Century: 200 items, including original editions of Ambrose Pare and Andreas Vesalius
Seventeenth Century: 830 works including first editions of William Harvey, John Mayow and Clopton Havers
Eighteenth Century: 2,200 works by authors including Giovanni Battista Morgagni, Percival Pott, and Antonio Valsalva
---
History of Northwestern University Medical School 1859-1979 by Leslie B. Arey
The Galter Health Sciences Library staff has digitized Leslie B. Arey's 1979 edition of Northwestern University Medical School: 1859-1979, a pioneer in educational reform. Authored by the late Leslie B. Arey, PhD, Professor Emeritus of Anatomy, the book, a revised and extended version of the centennial edition (1959) was published in 1979. This edition is generally used when referencing the history of the medical school.
---
Video: Leslie B. Arey on the history of the NU Medical School Library
Conversations with Leslie B. Arey: An Oral History of the N.U. Medical School
(60 Minutes; 1985)

James E. Eckenhoff, MD, medical school dean 1968-1985 interviews Leslie B. Arey, PhD,
NU faculty 1915-1988. The video features personal impressions, memories, and vignettes,
with photographs and film clips. Produced by the Medical School Library staff Edward Tawyea,
Associate Director 1985-1988, and Pejman Makarechi, Head of Media Production Services
1983-1988 and updated by the Galter Health Sciences Library.

Excerpted from: Conversations with Leslie B. Arey: An Oral History of the N.U. Medical School
---
The G.V. Black Collection
Guide to the Digitized Collection of G.V. Black Manuscripts, Correspondence and Photographs in the Galter Health Sciences Library, Northwestern University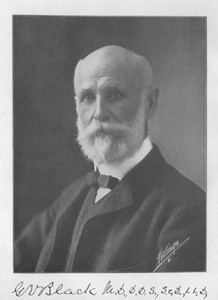 The Northwestern University G.V. Black collection contains 43 manuscripts, 100 letters and photographs covering the period between 1867 and 1915. Some of the more important items in the collection are: correspondence between Dr. Black and Dr. Frederick S. McKay from the turn of the century that focus on mottled enamel of teeth and early hypotheses on water and fluoridation; correspondence, program announcements and other ephemera from the World Dental Congress held in conjunction with the World's Columbian Exposition in 1893; a manuscript on zoo chemistry.

Searchable Finding Aid
---
Archibald Church History of Medicine Collection
The history of medicine does not begin and end at any particular date. [1]
The Galter Health Sciences Library at Northwestern University was known as the Archibald Church Medical Library from 1927 to 1990. Dr. Church was associated with the Medical School for 25 years, first as a professor and then as chair of nervous and mental diseases and medical jurisprudence. His name is now given specifically to the library's historical book collection. This is appropriate, for it was a gift from Dr. and Mrs. Church which formed the first endowment the library received.

Irving Cutter (1875-1945), dean of the Medical School from 1925 to 1941, was responsible for the collection's extensive development. Cutter began his working life as a book salesman for the Ginn Company and remained a "bookman" all his life. Not surprisingly, Dean Cutter saw the Medical Library as his personal project, and during his tenure expanded its holdings from 13,000 to nearly 92,000 volumes.
Most importantly for the historical collections, Cutter capitalized on the Great Depression by buying up European rarities for the library at bargain prices. Dean Cutter was a noted rare book collector in private life, specializing in obstetrics and gynecology and William Harveyiana, and was a correspondent of another noted medical bookman, Harvey Cushing of Yale. Cutter's friendly rivalry with Cushing, another Harvey collector, was indirectly responsible for Yale and Northwestern possessing two of the most complete collections of William Harvey in the country; Cutter and Cushing bequeathed their private collections to their respective employers upon their deaths. [2]
It was Dean Cutter's historical perspective, as much as his bookmanship, that resulted in the Church collection's depth and excellence. Cutter saw the medical library as "an agent for the diffusion of culture." [3] He considered historical works within that library to have a humanistic value, both cultural and educational, that was more important than their status as "rare books." In his role as medical educator, Cutter frequently alluded to the role medical history had played in the "high standards and cultivation of the British medical profession, and felt that it would be of great value in raising our standards in this country if it received more general support." [4] For this reason the Church collection has been called a "working collection of medical classics" that represent "the major advances and theories dotting the landscape of medical history." [5]
1. G.S.T. Cavanaugh. (1975). A further perspective on medical history collecting. Bulletin of the Medical Library Association, 63 (1): 47.
2. John F. Fulton. (1943). The letters and libraries of Irving S. Cutter and Harvey Cushing. Quarterly Bulletin of the Northwestern University Medical School, 20 (1): 63.
3. James B. Herrick. (1943). The function of a library in a medical school. Quarterly Bulletin of the Northwestern University Medical School, 20 (1): 70.
4. Francis R. Packard. (1943). Irving S. Cutter: Medical historian and teacher. Quarterly Bulletin of the Northwestern University Medical School, 20 (1): 128.
5. Northwestern University Medical School Magazine (September 1965): 23.
---
Archival Highlights: Publications and Class Portraits
Special Collections serves as a valuable resource for information on faculty members and graduates of the Medical and Dental Schools and their predecessors, the Chicago Medical College and University Dental College, American College of Dental Surgery & Northwestern College of Dental Surgery, as well as the Woman's Medical College. Among its holdings are class photographs, yearbooks, and selected administrative correspondence, including that of Nathan Smith Davis, founder of the American Medical Association and the Chicago Medical College and G. V. Black, founder of the Dental School.
MEDICAL SCHOOL MATERIALS
Some historical materials related to Northwestern University Medical School and its predecessors include:
PORTRAITS
Group Class Portraits
1881, 1884, 1888, 1891-1893, 1898-1899, 1901-1904, 1909, 1916-1917, 1920, 1926-1927, 1929, 1931, 1933-1939, 1940-1954, 1954-1957, 1959, 1960-1964, 1965-1974, 1989---
Comments:
Group class portraits have traditionally been taken during the junior year of medical school
During the 1960's and 1970's Northwestern University Medical School did not consider a student as "graduated" until after one year of internship/residency was completed. So, for example, the actual graduation date is one year prior to the official school record of graduation.
Class Portraits: Individuals
1893-1918; 1924
PUBLICATIONS
Northwestern University Medical School Quarterly Bulletin
1899-1962 (Publication was suspended from May 1912 through Spring 1940); Digitized version is also available in PMC (announcement).
Northwestern University Medical School Announcements
1859-1986
Northwestern University Medical Center Magazine
1974-1984
Woman's Hospital Medical College (catalogs; announcements)
Woman's Medical College of Chicago (catalogs; announcements)
Northwestern University Woman's Medical School Bulletin
1871-1872 to 1901-1902
Northwestern University Woman's Medical School Announcements
1891-1901
---
PUBLICATIONS BY AND ABOUT THE STUDENTS
Papers Submitted for Entrance into Medical School
1896-1928
1925-1936, 1960-1966
(Northwestern University Yearbook, which includes pages devoted to the medical and other health profession schools)
1886-1926, 1928-1946, 1965, 1968, 1971, 1973-1975
---
OTHER PUBLICATIONS
Northwestern University Medical School, 1859-1979 / Leslie B. Arey
A revision and extension of the 1959 Centennial edition
Print copies are in Special Collections, in the Reference Collection and in the stacks, and a digitized version is also available.
W19 N879A
Woman's Medical School, Northwestern University : (Woman's Medical College of Chicago) : the institution and its founders : class histories, 1870-1896 / Avis Smith ... [et al.] ; editors, Eliza H. Root, H. G. Cutler ; collaborators, Marie J. Mergler ... [et al.] Chicago, H. G. Cutler, 1896.
Print copy is in Special Collections: 610.71773 N81w 1896, and a digitized version is also available.
v.1,1984--v.29,2013 (later title: Northwestern Medicine Magazine is published in print and is available online.)
quarterly
Office of Publications and Public Relations, Northwestern University Medical School
---
A.D. Black History of Dentistry Collection

In 1896, Dr. G.V. Black and Dr. Theodore Menges purchased personal libraries of many different American dentists to establish a dental collection at Northwestern University Dental School. William H. Trueman, an avid collector of pre-1800 dental literature, donated his collection to the Dental School in 1925. Books, prints, and paintings by the French, English, Dutch, and Flemish were collected by Dr. William Bebb during two European visits in the early 1920s. A special effort was made to collect early works on anesthesia, a topic of particular interest to the founders.
The 1,390 rare books in the Black History of Dentistry Collection include: an 11th century illumination from a breviary of St. Apollonia's martyrdom; Pietro d'Argellata's "Cirugia Magistri" (Venice, 1499); the first book on dentistry, entitled "Arznebuch" (1594); three editions of Pierre Fauchard's (Father of Dentistry) book, "Surgeon Dentist," dated 1728, 1746, 1766 and an English translation in 1946; Practical Observations on the Human Teeth (1783) by the first dentist to practice in the United States, Dr. Robert Wooffendale; Dr. Joseph J.F. Lemaire's early collection of teeth carved from ivory; a letter from Dr. John Greenwood to Lt. General George Washington on his denture charges (1799); and contributed research papers, letters, data and some unpublished materials by the Father of Modern Dentistry, Dr. Greene Vardiman Black.
---
Updated: October 28th, 2015 11:57