About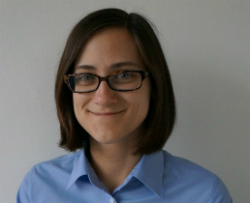 Joelen Pastva
Metadata Librarian
Phone: 312.503.6020
Email: joelen.pastva@northwestern.edu
As Metadata Librarian I assist with complex cataloging, record maintenance, and providing access to the library's print and electronic resources. I monitor the metadata standards environment to ensure the library's practices are in line with nationally and internationally established best practices. I am also involved in the library's digital initiatives, helping with metadata enhancements, migrations, and other system implementations. I am interested in ontology development and finding ways to improve user experiences through library metadata.
back to top
Publications and Presentations
Pastva, Joelen. "Introduction to OpenRefine." CARLI Technical Services Spring Forum. Heartland Community College, Normal, IL. 21 April 2016. Conference presentation.
Pastva, Joelen. "Simplified cataloging for non-catalogers through FAST." ALA Midwinter Meeting. Boston Convention and Exhibition Center, Boston, MA. 9 Jan. 2016. Conference presentation.
Pastva, Joelen, Gwen Gregory, and Violet Fox. "Keep calm and carry on: the new technical services." Creating the 21-st Century Academic Library. Ed. Brad Eden. Vol. 6. Lanham, Md. : Scarecrow Press, Nov. 2015. Print. http://hdl.handle.net/10027/20435
Pastva, Joelen and Valerie Harris. "PunkCore: Developing an Application Profile for the Culture of Punk." Metadata Intersections: Bridging the Archipelago of Cultural Memory: International Conference on Dublin Core and Metadata Applications. Dublin Core Metadata Initiative. Austin, Texas. 10 Oct. 2014. Poster presentation.
back to top
Other Professional Activities
ILA Best Practices Committee (appointed) – 2016-2018 term
CARLI Technical Services Committee – 2015 – present
ACLTS Standards Committee

Intern, 2014-2015
Member 2015 – present
back to top
Updated: June 3rd, 2016 11:53