About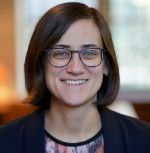 Joelen Pastva
Head, Collection Management and Metadata Services
Phone: 312.503.6020
Email: joelen.pastva@northwestern.edu
As the department head for Collection Management and Metadata Services, I oversee activities at Galter related to collection acquisitions and management, cataloging, and resource discovery. Our department actively contributes to and maintains the library's catalog of print, physical, and electronic resources, the library's search tools and discovery strategy, and other collections initiatives through the library's repository, DigitalHub, and finding aids for special collections materials. Because of my background in library metadata, I also assist with complex cataloging, record maintenance, and providing access to the library's resources. I monitor the metadata standards environment to ensure the library's practices are in line with nationally and internationally established best practices. I also contribute to the ongoing development and enhancement of the library's website. I am interested in enhancing the discoverability of open access scholarship, developing new methods for collections assessment and outreach, and improving research experiences through linked data implementations and other metadata initiatives.
back to top
Publications and Presentations
Ilik, Violeta, Piotr Hebal, Anton Olson, Susan Wishnetsky, Joelen Pastva, Ramune Kubilius, Jonathan Shank, Karen Gutzman, Margarita Chung, and Kristi Holmes. "DigitalHub: a repository focused on the future." Medical Reference Services Quarterly, vol. 37, no. 1, 2018, pp. 31-42, doi:10.1080/02763869.2018.1404386.
Konkel, Mary, and Joelen Pastva. "Technical Services Committee." 2017 CARLI Annual Meeting. I Hotel and Conference Center, Champaign, IL. 17 Nov. 2017.
Pastva, Joelen, Jonathan Shank, Ramune Kubilius, Karen Gutzman, and Madhuri Kaul. "Capturing and analyzing publication, citation, and usage data for contextual collection development." NASIG 32nd Annual Conference. Westin Indianapolis, Indianapolis, IN. 9 June 2017. Conference presentation.
Pastva, Joelen. "Simplified cataloging for non-catalogers through FAST." Using FAST for Faster Workflows and Discovery. Association for Library Collections & Technical Services. 28 Sept. 2016. Webinar.
Pastva, Joelen. "Introduction to OpenRefine." CARLI Technical Services Spring Forum. Heartland Community College, Normal, IL. 21 April 2016. Conference presentation.
Pastva, Joelen. "Simplified cataloging for non-catalogers through FAST." ALA Midwinter Meeting. Boston Convention and Exhibition Center, Boston, MA. 9 Jan. 2016. Conference presentation.
Pastva, Joelen, Gwen Gregory, and Violet Fox. "Keep calm and carry on: the new technical services." Creating the 21-st Century Academic Library. Ed. Brad Eden. Vol. 6. Lanham, Md. : Scarecrow Press, Nov. 2015. Print. http://hdl.handle.net/10027/20435
Pastva, Joelen and Valerie Harris. "PunkCore: Developing an Application Profile for the Culture of Punk." Metadata Intersections: Bridging the Archipelago of Cultural Memory: International Conference on Dublin Core and Metadata Applications. Dublin Core Metadata Initiative. Austin, Texas. 10 Oct. 2014. Poster presentation.
back to top
Other Professional Activities
ACLTS Standards Committee
Intern, 2014-2015
Member 2015 - present
CARLI Technical Services Committee: 2015 - present
ILA Best Practices Committee: 2016 - present
back to top
Updated: February 13th, 2018 15:12