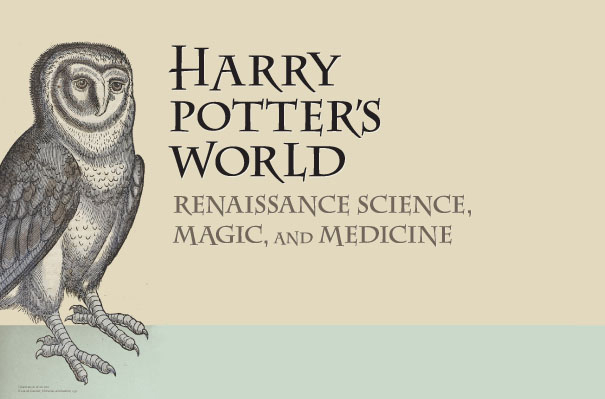 Galter Health Sciences Library & Learning Center
On display December 18, 2017 – January 27, 2018
In 1997, British author J. K. Rowling introduced the world to Harry Potter and a literary phenomenon was born. Millions of readers have followed Harry to the Hogwarts School of Witchcraft and Wizardry where he discovers his heritage, encounters new plants and animals, and perfects his magical abilities. Although a fantasy story, the magic in the Harry Potter books is partially based on Renaissance traditions that played an important role in the development of Western science, including alchemy, astrology, and natural philosophy. Incorporating the work of several 15th- and 16th-century thinkers, the seven-part series examines important ethical topics such as the desire for knowledge, the effects of prejudice, and the responsibility that comes with power.
This exhibition, using materials from the National Library of Medicine, explores Harry Potter's world, its roots in Renaissance science, and the ethical questions that affected not only the wizards of Harry Potter, but also the historical thinkers featured in the series.
This exhibition was developed and produced by the National Library of Medicine, National Institutes of Health and was curated by Elizabeth J. Bland. It has been traveling around the United States since 2009.
To explore this world more, visit the NLM exhibition webpage.
---
back to top
Galter Library posters highlight Hogwarts courses
Inspired by courses offered at Hogwarts School of Witchcraft and Wizardry, these posters showcase images from actual 16th, 17th, and 18th century books that cover subjects similar to Hogwarts classes. Posters on display soon in the library. Excerpts below.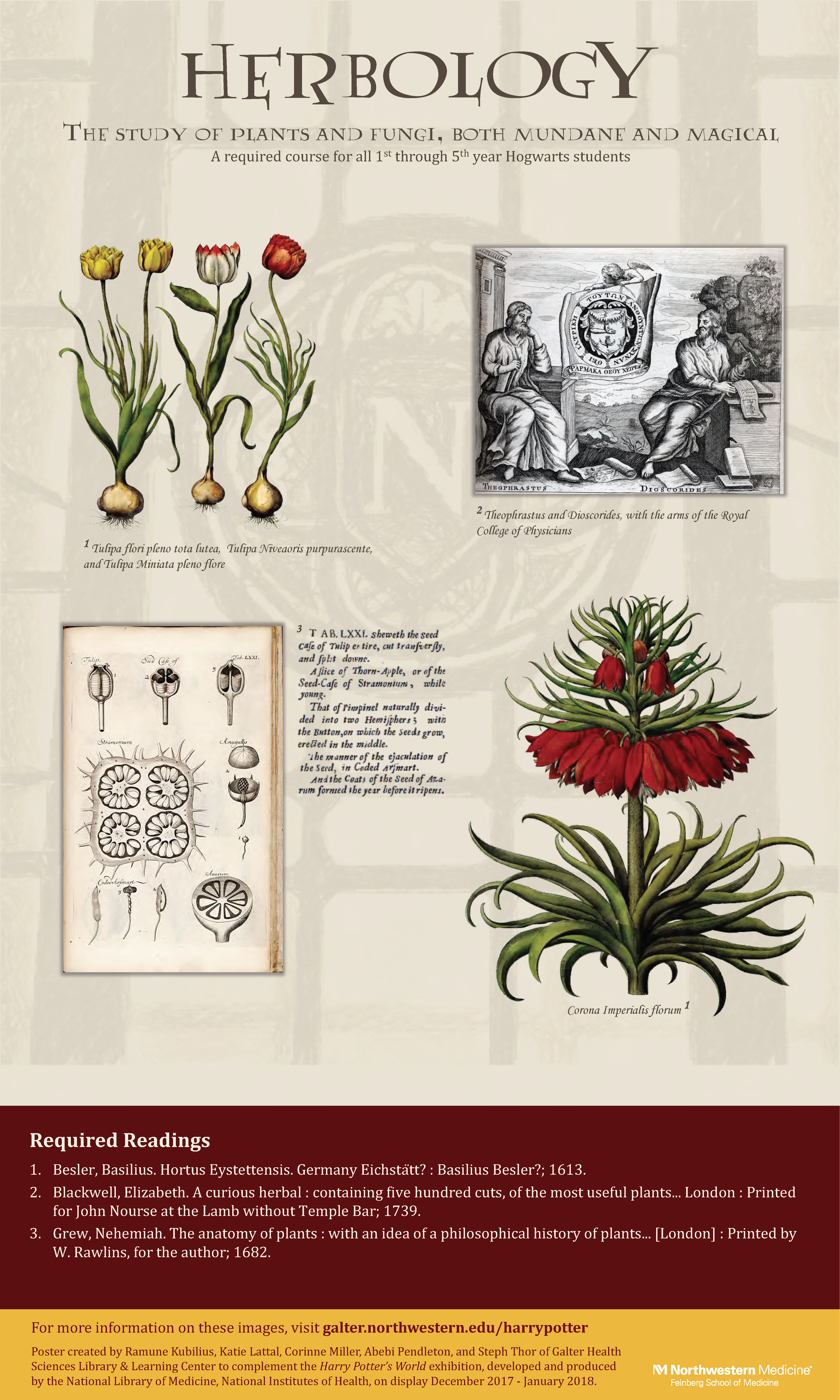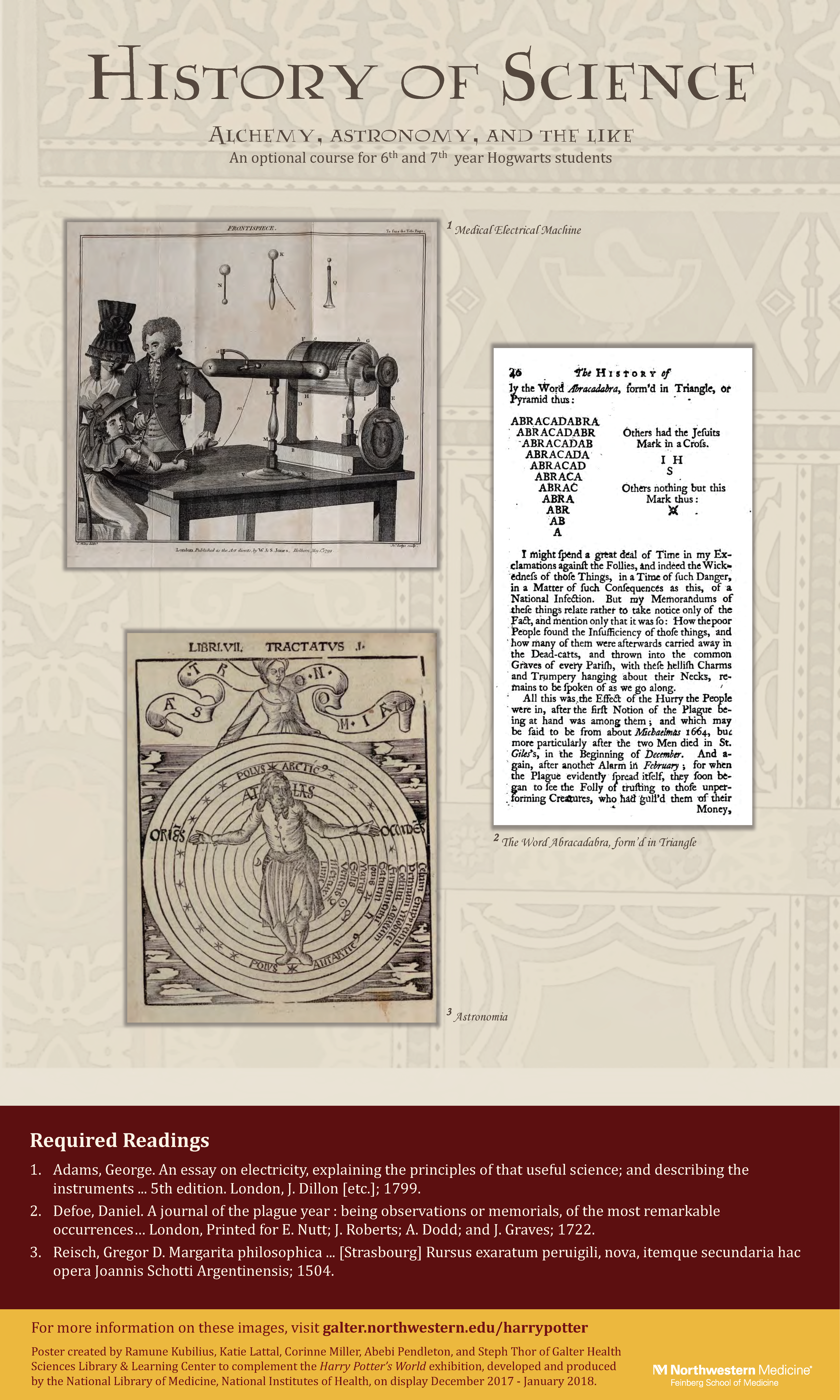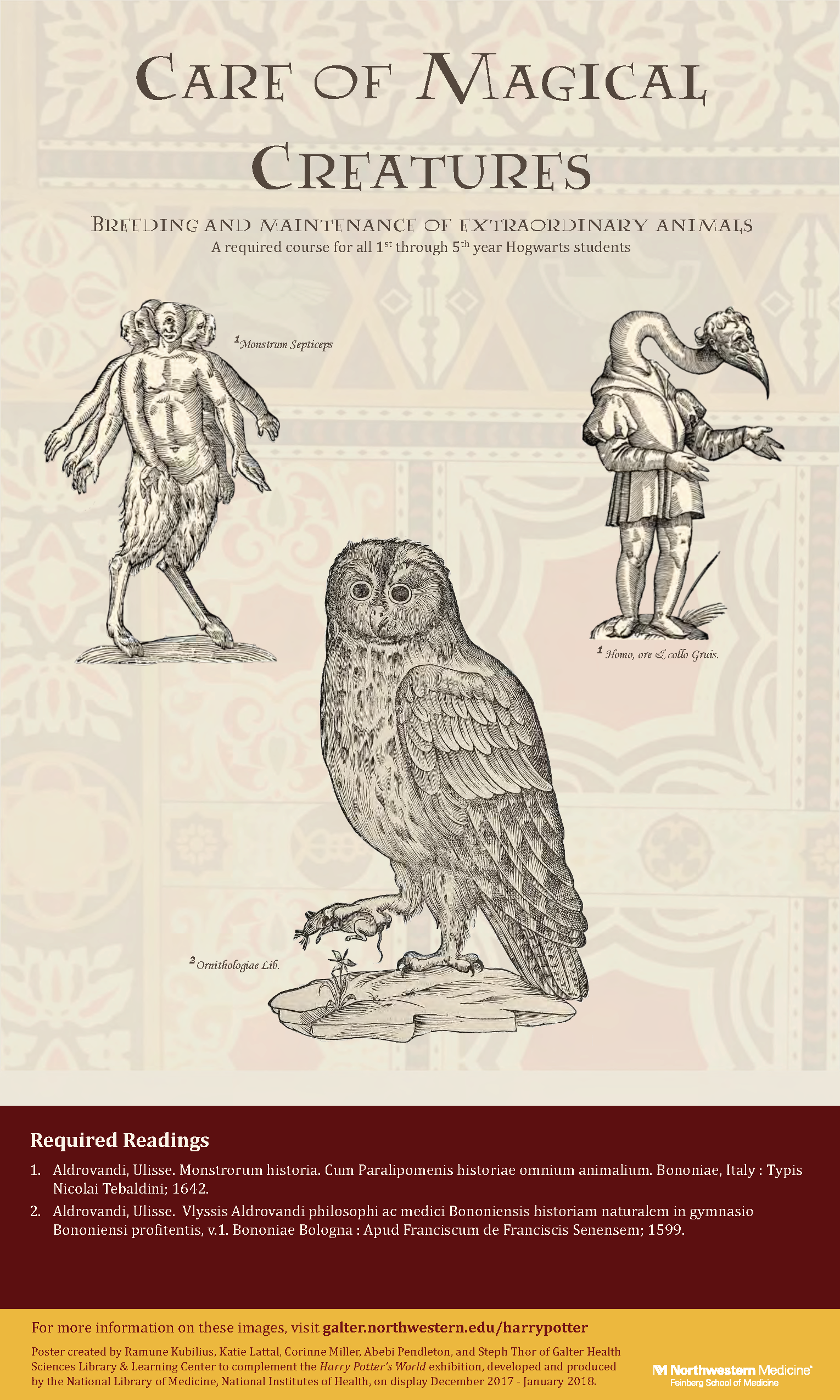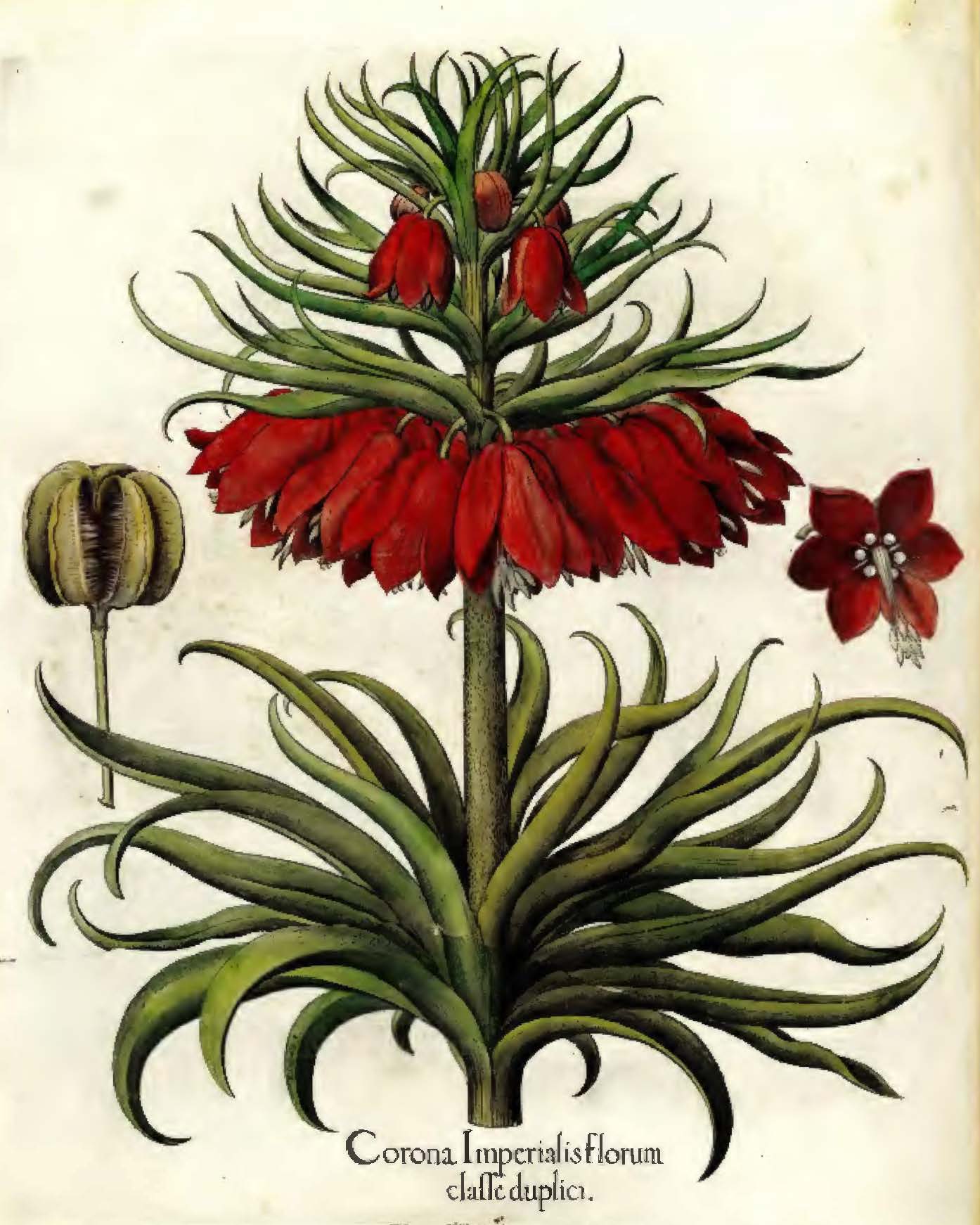 Besler, Basilius. Hortus Eystettensis. Germany Eichstätt?: Basilius Besler?; 1613.
Herbology
Beware! Corona imperialis is beautiful, but deadly. It is toxic when raw. The flowers emit a skunky fragrance that repels pests. Thankfully, the odor isn't as bad as Stinksap, which smells like rancid manure, but can help nurse sick animals.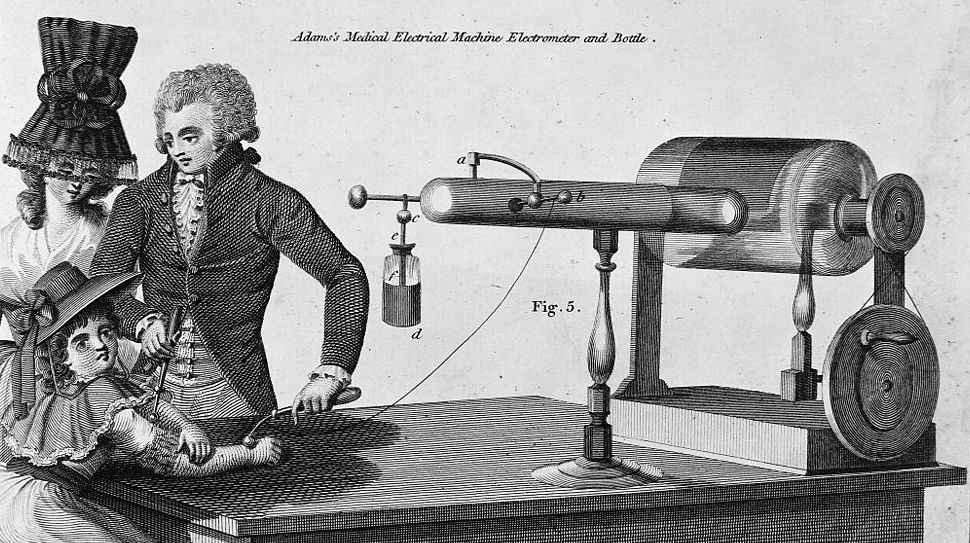 Adams, George. An essay on electricity, explaining the principles of that useful science; and describing the instruments ... 5th edition. London, J. Dillon [etc.]; 1799.
History of Science: alchemy, astronomy, and the like
This young girl is receiving electrical treatment for her paralyzed arm from a Medical Electrical Machine. No doubt Skele-Gro would have been more effective! But, as Harry would find out, it is excruciatingly painful to regrow bones.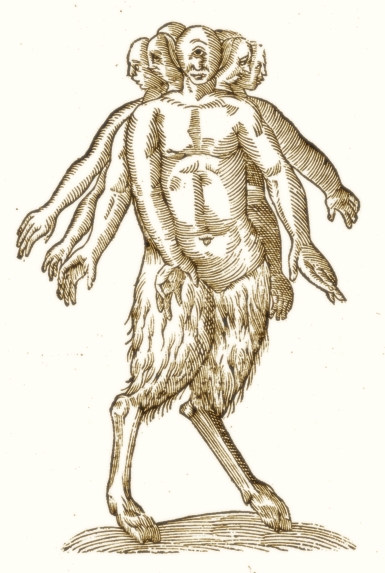 Aldrovandi, Ulisse. Monstrorum historia. Cum Paralipomenis historiae omnium animalium. Bononiae, Italy: Typis Nicolai Tebaldini; 1642.
Care of Magical Creatures
What is this seven-headed, goat-legged, cyclopic creature?
Is it magical or mythical? Is it friendly or cantankerous?
Consult Ulisse Aldrovandi's History of Monsters to find out.
These posters were created by the Special Collections Working Group (Ramune Kubilius, Katie Lattal, Corinne Miller, Abebi Pendleton, and Steph Thor) and feature images from rare books in Galter's own collections.

---
back to top
Harry Potter's World speaker series
In January 2018 we will host lectures on a variety of topics related to the world of Harry Potter. Northwestern University faculty members from the Feinberg School of Medicine and the Weinberg College of Arts and Sciences will share their expertise on history, art, literature, and medicine, and how they relate to the world of magic. Watch this page for updates on event times and locations.
Osher Center for Integrative Medicine at Northwestern University, along with wizard-in-training teaching assistant Joshua Kaplan.

Location: Wieboldt Hall, Room 109
pharmacology, chemistry, biology, and humanity.
back to top
Activities in the library
Throughout December and January we invite patrons to relax and enjoy Potter-themed activities in the library. Stop by the circulation desk for more info.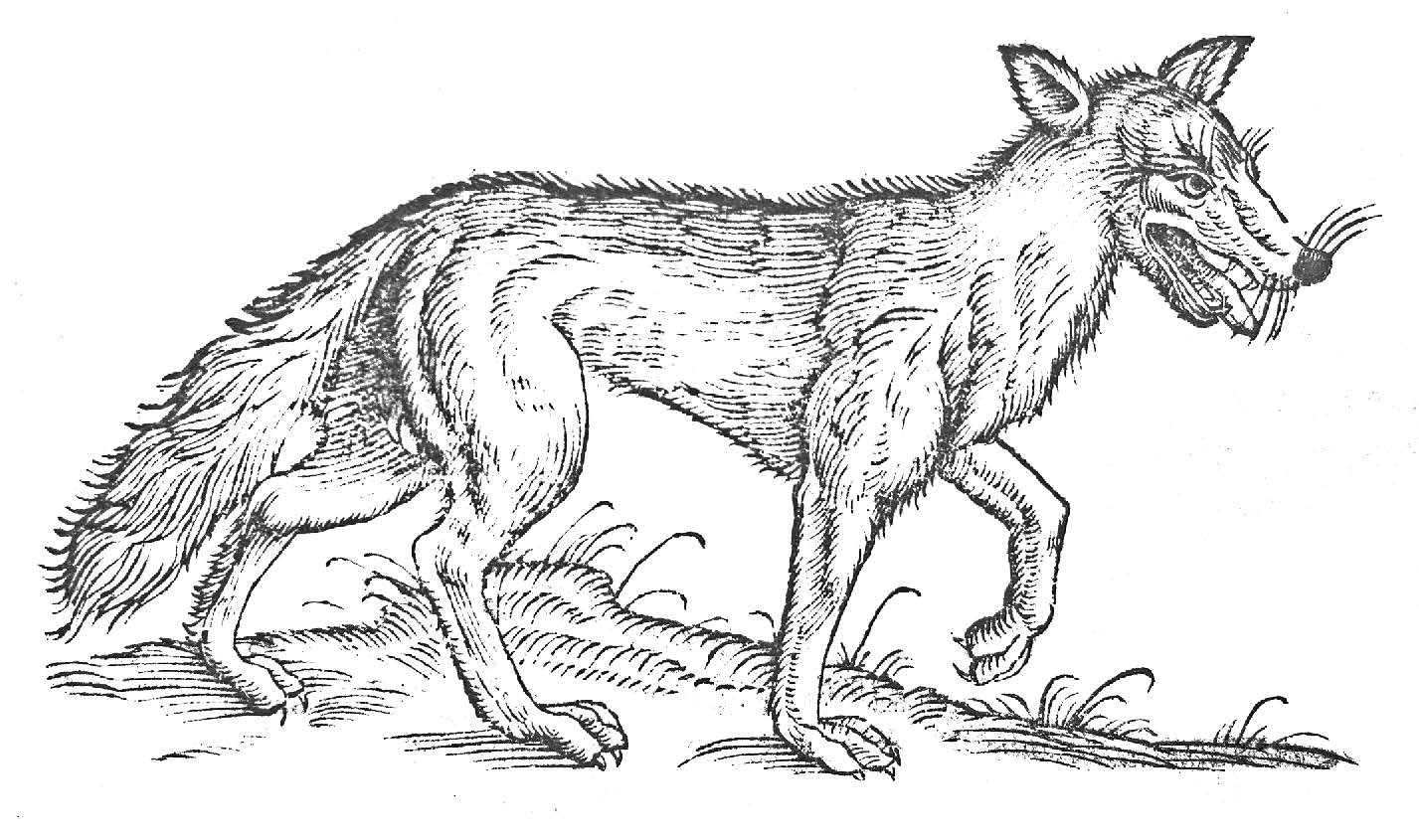 Wolf, Historiae Animalium, Konrad Gesner, 1551. Excerpted from NLM's Color the Patronus, available here.
De-stress with coloring!
#ColorOurCollections coloring pages and pencils available throughout the library.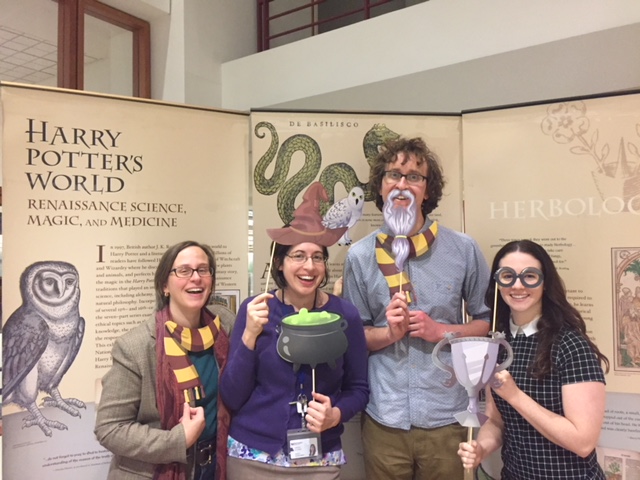 back to top
Updated: May 25th, 2018 11:03