How to Support the Library
---
Introduction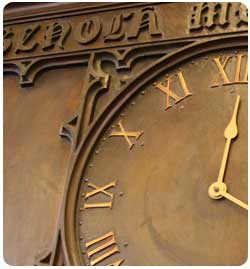 The Alumni clock in the
Eckenhoff Reference Room
Your gift to support the mission of the Galter Health Sciences Library is greatly appreciated by library staff and users.
Gifts to the Galter Library will be used to acquire information resources -- books, journals or media in a variety of formats -- that support the research, patient care and education missions of the Feinberg School of Medicine. Funds are established to support specific activities and collections.
Your gifts not only support the mission of the library but can also memorialize a colleague, friend or loved one. Galter Library bookplates are designed to acknowledge your gift and to recognize the person who is to be honored.
In addition, the library accepts gifts in kind, specifically recently published books that match the Galter Library's collection policy, or rare books in the health, life or biological sciences. For the donation of recently published works (titles published within the last five years or so), please contact Ramune Kubilius, Collection Development/Special Projects Librarian & interim Special Collections Librarian, at 312-503-1912 and you can direct to her inquiries about donating rare books or unusual items such as instruments and other artifacts important to the history of medicine, dentistry, physical therapy, nursing, pharmacy or other health disciplines.
---
Donate to the Library
Donation Form
Please print the form below, fill it out and mail it with your gift to:
Friends of the Galter Health Sciences Library
c/o the Director
Northwestern University
303 E. Chicago Avenue
Chicago, IL 60611
Personal Data

Name:
Street Address:
City: State: Zip code:
Email address:
Telephone number:
Payment Method

Enclosed is my gift for __________. (Checks only. Please do not send cash).
A minimum contribution of $100 is asked for the preparation of a bookplate honoring an individual.

Indicate the subject your gift should benefit:
_____ Medicine
_____ History of Dentistry
_____ Physical Therapy
_____ Biomedical Research
_____ Genetic Counseling
_____ Other ________________
Honorees receive an acknowledgement from the Library Director recognizing your gift.

Name of honoree and/or their relative:
Street Address:
City: State: Zip code:
---
Updated: May 24th, 2016 11:11