EndNote X8 for Windows and Mac is now available from NUIT at no charge to NU faculty, students, staff, and residents.
What's New in EndNote X8?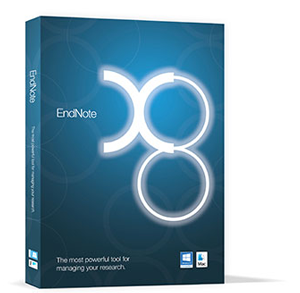 Share your library with up to 100 other EndNote desktop users on X7.2 or later; providing teams with immediate real time access to the same set of references, attachments, notes and annotations
Access the Activity Feed to see what your colleagues are doing in the Shared Library and when new members join
New, modern, easy to identify icons – identical across both Mac and Windows
Updated workflows for finding reference updates
Every X8 library includes a built in Recently Added group which can be customized, allowing users to pick up right where they left off in the research workflow
Configure Sync option in the Groups pane to simplify desktop activation process
Utilize unlimited file attachment storage in your online library
Cite While You Write for Microsoft Word 2016
And EndNote's syncing capabilities let you access all of your citations, attachments, and groups from anywhere, anytime.
Go to the NUIT website to download either version. A NU NetID and password is required.

For guides, tutorials, and FAQs, see our EndNote Support page.
back to top
Updated: January 20th, 2017 16:44