Ting D. Lee, MD, 1898-1968
By Emma Florio, Special Collections Library Assistant
Ting David Lee, MD, was born Li Ting-tung in Foshan, Guangdong, China, on November 27, 1898. According to the 1932 Who's Who in China, his early education came from private tutors.¹ He came to the United States in 1914, attended Falcon Holiness School in Falcon, North Carolina, and earned his BA from Asbury College in Wilmore, Kentucky, in 1920.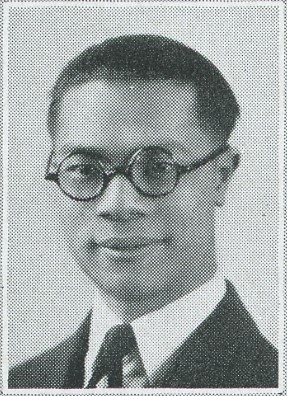 Lee attended Emory University School of Medicine for two years before transferring to Northwestern University Medical School. At Northwestern he was a member of the Chinese student fraternity Shen Noong, the YMCA, and the International Students Club. After receiving his MD in 1925, he was appointed to an internship at George Washington University Hospital in Washington, D.C. While there, he served as president of the Chinese Students' Club of Washington. Image at left: Lee from the 1925 Northwestern yearbook The Syllabus.
In October 1925, the Daily Northwestern reported that Lee had been appointed assistant professor of pathology at the Kwong Hua Medical College in Canton–now known as Guangzhou, a city less than 40 miles from his hometown of Foshan. The college was the first Western-style medical school in China completely run by the Chinese. From 1926 to 1928 Lee served as a professor of pathology and internal medicine and as the director of the Kwong Hua Hospital clinical laboratory. In 1927 he married Lau See Lee, with whom he would go on to have five children.
In 1928 Lee and his family returned to the United States and settled in Portland, Oregon, where he practiced medicine for over 30 years. He was on staff at the City of Roses Hospital and taught at the University of Oregon Medical School, where he was the first Chinese person to hold the position of clinical instructor. In 1951 he continued his medical studies and received a diploma from the University of London School of Tropical Medicine and Hygiene. He remained connected to Northwestern as well: in 1955 he helped to organize a dinner in Portland for University President J. Roscoe Miller, MD, and Portland alumni.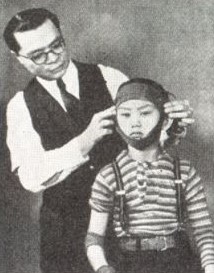 Aside from his medical work, Lee was heavily involved in the Chinese community, in Portland and beyond. At various times, he was president of the Chinese Benevolent Association of Portland, the American Bureau of Medical Aid to China, the Oregon chapter of United China Relief, and the Lee Association of Portland. In 1932 the Daily Oregonian described him as "one of the leaders in the Chinese community." Lee gave many lectures in Portland on Sino-Japanese relations; Who's Who in China stated that "his wit and humor attract[ed] large audiences."² He was particularly active in Chinese relief during the 1930s and '40s. In 1942, he combined his medical and relief work by helping to organize shipments of discarded silk stockings to China for use as outer bandages to hold sterile dressings in place, for which he drafted instructions for use.³ Image at right: Lee demonstrates how to apply silk stockings as bandages, TIME, March 9, 1942.
Lee applied for naturalization in 1944 and was sworn in as a United States citizen in 1950. He continued to be active in the Chinese-American community. In 1957 he was part of a seven-person committee from around the country that advocated for the creation of a national association to represent the interests of the nearly 150,000 Chinese people living in the US. In 1965 he received the Overseas Chinese Affairs Commission Gold Medal for his organization of a shipment of vitamins to dependents of the Nationalist Chinese Air Force on Formosa (now known as Taiwan).
Ting D. Lee died on September 1, 1968, in Portland. His legacy is one of dedicated medical work coupled with a deep commitment to the welfare of both his local Chinese-American and native Chinese communities.
back to top
Endnotes
1. Who's Who in China: Biographies of Chinese Leaders (Shanghai: China Weekly Review, 1932), 148.
2. Who's Who in China, 148.
3. "Medicine: Silk Cycle," TIME, March 9, 1942, 62.
back to top