Library Access
Please visit our Library Access page for specific policies related to accessing Galter's resources, and accessing the library building.
back to top
Animals
The Galter Library welcomes trained service animals on a harness, leash, or other type of tether. Users who bring non-service animals into the library will be asked to leave.
back to top
Cell Phone Use
Set your cell phone ringer to silent or vibrate
Use a low speaking voice
Keep your conversation brief
Where can I make or take a quick cell phone call?
Level 1 water fountain/lockers hallway
Extended conversations should be taken outside the library.
back to top
Collaboration and Quiet Zones
The Galter Health Sciences Library is divided into collaborative and quiet zones. Study zones have varied noise levels and allow users to determine which areas of the library are best for the type of study environment they need. Signs are posted in all areas of the library so it should be clear to users and staff what is permitted and expected regarding noise levels.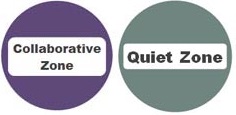 Collaborative Zone
Where: Mezzanine and Level 1, including the Searle Reading Room and Eckenhoff Reading Room
Conversation permitted
Set cell phone to silent or vibrate
Short phone calls (please use the hallway on Level 1 near restrooms and water fountains)
Quiet Zone
Where: Level 2, including Dollie's Corner
Occasional talking
Low speaking voice
No cell phone conversations
Set cell phone to silent or vibrate
Quiet when entering and exiting group study rooms
Note: The quietest area of study is the West reading room on Level 2.
back to top
Food and Drink in the Library
Food is not allowed in any area of the Galter Library. Beverages are allowed only in spill-proof commuter mugs and covered cups. Users are asked to respect this policy and not to have beverages near valuable computer and electronic equipment.
back to top
Web Privacy Policy
Follow this link for more information about our privacy policies for the Galter Library website.
back to top
Updated: January 3, 2019