Group Study Rooms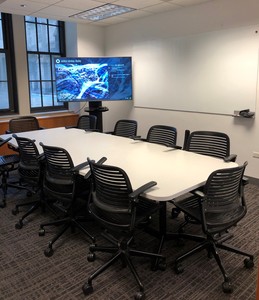 The library offers 11 small conference rooms suitable for 2-10 people. Curriculum-related events receive scheduling priority. Each room is equipped with a monitor, white board, large table and chairs. Solistice wireless display technology is available in each room to allow easy sharing of screens.
Computer Classroom
The library's 2nd floor computer classroom is available to faculty and staff of the Feinberg School of Medicine. Instructors are expected to stay in the classroom during the scheduled class time. Library staff cannot provide teaching support. The classroom includes computers, Solstice wireless display technology, and two screens to display content to the group.
A variety of software programs are available on library computers. Please note the software you'll need when making your reservation so we can do our best to accommodate your needs.
Requesting a Study Space
To request a room reservation, please complete this Form.
If you have questions or would like to discuss what space is right for you, please contact Mary Anne Zmaczynski.
Mary Anne Zmaczynski
Head, Access Services Department
Email Mary Anne
(312) 503-6898
back to top
Conference Room Policies
Please abide by the conference room use policies:
Rooms may be scheduled, for a block of up to three hours, at the circulation desk or online.
Group use takes precedence over individual use of the conference rooms. Unreserved conference rooms are available on a first come, first serve basis.
Groups with reservations take precedence over groups without.
Only Feinberg School of Medicine affiliates can reserve rooms and equipment.
If a group fails to show up within fifteen minutes of its reservation, use of the room is forfeited.
If a room is left unattended for more than fifteen minutes, use of the room is forfeited.
back to top