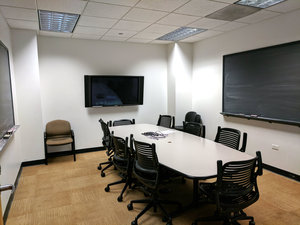 Group Study Rooms
The library offers 11 conference rooms for group use. Curriculum-related events receive scheduling priority. Each room is equipped with a monitor, marker or chalkboard, and table and chairs for approximately ten people. Remote controls for the displays as well as adapters to connect most computers to the monitors are available at the circulation desk.
Classrooms
Two classrooms are available to faculty and staff of the Feinberg School of Medicine. Instructors are expected to stay in the classroom during the scheduled class time. Library staff cannot provide teaching support.
Our semi-private, Large Classroom in the LRC includes 23 windows computers and seating for 46 people. The private, Small Classroom seats 8 students each at their own windows workstation. Both spaces include a podium with instructor's computer and a projector to display content for the group.
A variety of software programs are available on library computers. A minimum of three weeks' notice is required to update software or install any program not listed.
Requesting a Study Space
To request a room reservation, please complete this Form.
If you have questions or would like to discuss what space is right for you, please contact Cheryl Powell.
Cheryl Powell
LRC Manager
Email Cheryl
(312) 503-1875
back to top
Conference Room Policies
Please abide by the conference room use policies:
Rooms may be scheduled, for a block of up to three hours, at the circulation desk or online.
Group use takes precedence over individual use of the conference rooms. Unreserved conference rooms are available on a first come, first serve basis.
Groups with reservations take precedence over groups without.
Only Feinberg School of Medicine affiliates can reserve rooms and equipment.
If a group fails to show up within fifteen minutes of its reservation, use of the room is forfeited.
If a room is left unattended for more than fifteen minutes, use of the room is forfeited.
back to top
Updated: January 7th, 2019 15:28