Anatomical Models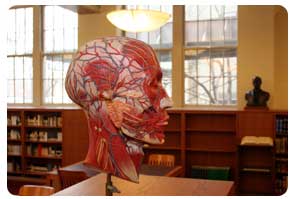 Anatomical models can be used anywhere in the library but can only be checked out from the library if needed for a class. Instructors should contact the library for permission ahead of time to take a model out of the library
back to top
Models Available on Level 1
Accupressure points
Arm, muscular
Breast, female
Ear
Elbow
Eye
Foot joints; Foot and ankle
Heart
Hip joint; Hip bones with femur tops
Knee
Leg, muscular
Liver
Lungs
Pancreas with gallbladder and spleen
Pelvises, male and female
Sexual organs, male and female
Shoulder
Spine w/ sacrum and spinal cord; Spine - short vertebrae column
Shoulder
Stomach
Torso
back to top
Models Available at the Circulation Desk
Brain (2)
Brain stem (2)
Ear
Hand, muscles and blood vessels
Hand and wrist, functional model
Head and neck
Heart (2)
Larynx, cartilages
Pelvises, male and female
Sexual organs, male and female
Skull, Beauchene didactic
Skull, Beauchene exploded
Skull, classic adult
Skull, fetal
Skull, half skull
Skull, transparent
back to top
Medical, AV, & Productivity Equipment
The following items are available at the circulation desk.
Medical Equipment
The library offers blood pressure cuffs and diagnostic sets containing an ophthalmoscope, otoscope and throat illuminator for use inside or outside the library.
Adapters and remotes
The library has adapters (dongles) available to connect your computer to the video displays in our conference rooms and classrooms. Remote controls for all monitors are also available. Adapter styles and cables include:
Mini DisplayPort to VGA or HDMI
USB-C to VGA or HDMI
HDMI cables
Productivity tools
These items are intended for in-library use only
extension cords / surge protectors
headphones
mice with USB cables

Additional Equipment
Other available equipment includes:
LCD projector
Portable screens
a Mobile Monitor Cart with a DVD/VCR combo
Please call us at 503-8126 with any questions or inquiries about equipment and related policies.
back to top
Updated: January 25, 2022