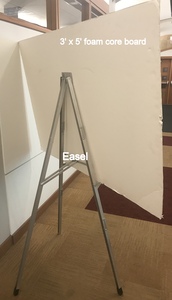 Easels and poster boards from the Galter Library are available to all departments within the Feinberg School of Medicine. Requests for usage must be made at least 48 hours in advance, with a maximum of 50 easels and 50 poster boards, for a lending period of up to 10 days. Easels and poster boards are for use on the Chicago Campus only. All poster boards are 3' x 5' foam core boards. Please note that the easels and poster boards available from the library are not the same design as those used at Research Day. Requestors must be affiliated with the Feinberg School of Medicine, provide a chart string number or a cost center number and have an active library barcode to make a reservation. Requests outside of these parameters must receive prior approval by Galter Library User Services.
The pick-up and return of easels and poster boards shall be the responsibility of the requesting department. Property not returned to the Galter Library by the scheduled return date will be allowed a grace period of 30 days. If the property is still not returned after 30 days, the requesting department will be charged a fee of $85 per missing easel, plus a $15 overdue fee and a $25 processing fee. These charges shall cover the purchase, shipping and processing of replacement easels.
Departments are responsible for setting up easels and arranging for them to be returned. The Galter Library does not provide set up or delivery assistance. Coordinators can submit set-up requests to University Services.
The Galter Library reserves the right to suspend access or to request the return of requested easels and poster boards two weeks prior to the annual Lewis Landsberg Research Day, or during any unscheduled event hosted by the Office for Research.
Please contact the User Services Department with questions.
Fields marked with an asterisk (*) are required.
back to top
---
Reserve an Easel or Poster Board
Updated: January 16th, 2020 10:21