By: James Shedlock, AMLS, Director
This article was featured in Library Notes #48 (Fall 2008).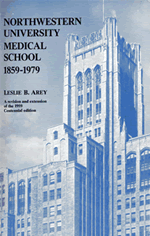 Anticipating the Feinberg School of Medicine's sesquicentennial in 2009, the Galter Health Sciences Library staff has digitized Leslie B. Arey's 1979 edition of Northwestern University Medical School: 1859-1979, a pioneer in educational reform. Authored by the late Leslie B. Arey, PhD, Professor Emeritus of Anatomy, the book, a revised and extended version of the centennial edition (1959) was published in 1979. This quasi-authoritative edition is generally used when referencing the history of the medical school.
back to top
Dr. Arey was a well-known scholar in the field of histology and human embryology and former chair of the Department of Anatomy from 1924-1954, and also an unofficial historian of the school as he lived through most of it. He became a faculty member in 1915 and remained active until his death in 1988. The Association of American Medical Schools credits him with the longest tenure of any medical school faculty member in the nation - 73 years.
Many thanks to Cheryl Powell, LRC Manager, for doing most of the scanning and to Michelle Frisque, Head of Information Systems, for coordinating access to the completed project.
back to top
Updated: September 24, 2023