Luis V. Amador, MD, 1920-2007
By Emma Florio, Special Collections Library Assistant
Luis Valentine Amador was born on February 14, 1920, in Las Cruces, New Mexico, to parents Maria Terrazas and Frank J. Amador. The Amador family, who had moved from Mexico to the newly-incorporated Territory of New Mexico in the 1850s, were prominent early settlers of the city of Las Cruces (New Mexico State University in Las Cruces holds the Amador Collection which includes over 600 items from the Amador family).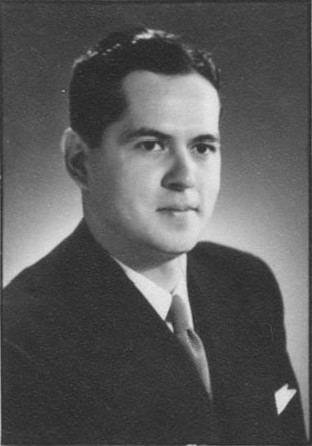 Amador attended the New Mexico College of Agriculture and Mechanic Arts (now known as New Mexico State University) and received a BS in biology with honors in 1941. He then attended Northwestern University Medical School and received his MD in 1945. He completed an internship and residency at St. Luke's Hospital in Chicago, and in 1950 completed a residency in neurosurgery with Northwestern University Medical School alumnus Eric Oldberg ('27) at the University of Illinois Neuropsychiatric Institute. In 1946 he married Bernice Carlson, with whom he had three children, two of whom worked in the medical field. Image at right: Amador's medical school class of 1945 portrait, Galter Library Special Collections.
Only two years after completing his neurosurgery residency, Amador was appointed the chief of neurosurgery at Children's Memorial Hospital in Chicago, where he initiated the pediatric neurosurgery service. That same year he was named medical director of the new Kiwanis Neuroscience Research Foundation of the Illinois-Eastern Iowa District, a position he held until 2004. As a leading neurosurgeon in Chicago, Amador held many other prominent positions during his career. He worked in the Neuropsychiatric Institute at the University of Illinois at Chicago in the 1950s, and was part of the neurosurgery staff at Wesley and Passavant Memorial Hospitals in addition to Children's Memorial. He also maintained connections to Northwestern University Medical School as an assistant professor of surgery at NUMS in the 1960s and a clinical professor in the 1980s. In 1981, he was featured in the Northwestern Alumni News magazine as an example of a neurosurgeon using lasers in his work at Northwestern Memorial Hospital.
Amador also received many honors in his distinguished career. He studied in Europe as a Rockefeller Foundation Fellow in 1951-52 and worked at Massachusetts General Hospital in Boston as a Guggenheim Fellow in 1954. In 1969 he was initiated into the American College of Surgeons. In the 1980s he received a grant from the Kiwanis Neuroscience Research Foundation which allowed him to write Brain Tumors in the Young, a comprehensive text on pediatric neurosurgery that was published in 1983. Acknowledging his many professional accomplishments, Amador's alma mater New Mexico State University named a dormitory in his honor in 1961 and awarded him with the Distinguished Alumni Award in 1972 and an Honorary Doctor of Laws in 2001.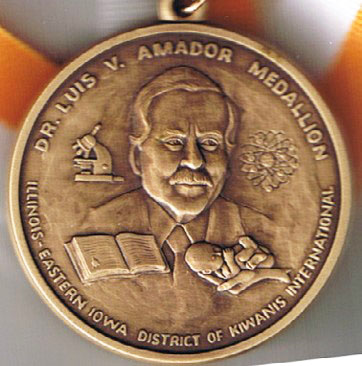 Amador retired to Los Angeles in the 1980s but maintained his interests in research and medicine. He was a visiting scientist at the University of California, Los Angeles, Brain Research Institute throughout the 1990s and in his spare time enjoyed collecting first editions of medical textbooks. In a 1995 profile of his career he reported that, at age 75, he was prepping a textbook on neuroscience.
Luis V. Amador died on April 30, 2007, in Los Angeles, at the age of 87. The Kiwanis Neuroscience Research Foundation celebrates his legacy with the Dr. Luis V. Amador Medallion Award which honors individuals who demonstrate outstanding service within their community; it continues to be awarded to this day. Image at right: the Luis V. Amador Medallion, from Illeiowan, vol. 101, no. 4 (March-April 2021).
back to top
Updated: September 28, 2022