From December 10, 2018 to January 19, 2019, Galter Health Sciences Library & Learning Center will host the National Library of Medicine traveling exhibition Binding Wounds, Pushing Boundaries: African Americans in Civil War Medicine.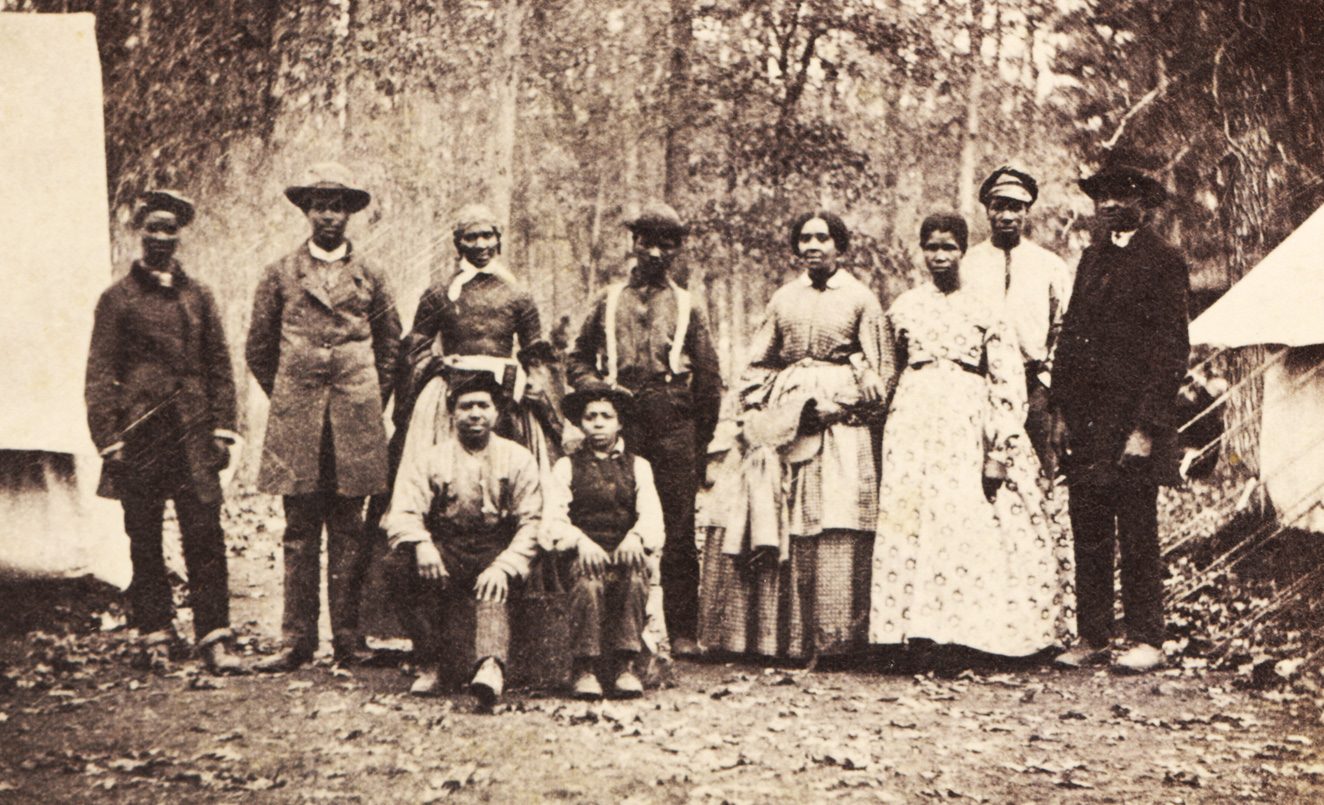 Contraband who served with the 13th Massachusetts Infantry c. 1863-1865. Courtesy Massachusetts Commandery Military Order of the Loyal Legion and the U.S. Military History Institute.
Many histories have been written about medical care during the American Civil War, but the participation and contributions of African Americans as nurses, surgeons and hospital workers have often been overlooked. Binding Wounds, Pushing Boundaries: African Americans in Civil War Medicine looks at the men and women who served as surgeons and nurses and how their work as medical providers challenged the prescribed notions of race and gender. Through historical images and period documents the exhibit explores the life and experiences of surgeons Alexander T. Augusta and Anderson R. Abbott, and nurses Susie King Taylor and Ann Stokes as they provided medical care to soldiers and civilians while participating in the fight for freedom.
The NLM exhibition is located on the first floor near the main library staircase, and four companion displays curated by Galter staff are on view in the Eckenhoff Reference Room. These displays consider various topics related to the main exhibition: modern media portrayals of African Americans in the Civil War era; the emergence of nursing and the role of African American nurses in the war; a history of the 29th United States Colored Infantry, Illinois' only African American regiment; and the medical initiatives of faculty and students of Feinberg School of Medicine's predecessor, Chicago Medical College, during the war and postwar periods.
The poster exhibition was developed and produced by the National Library of Medicine with research assistance from The Historical Society of Washington, D.C., and is curated by Jill L. Newmark.
back to top
Montgomery Lecture: January 10, 2019
Mark your calendars for January 10, 2019, 12-1pm, in the library's West Reading Room. Co-sponsors Galter Library, the Master of Arts in Medical Humanities & Bioethics program, and the Office of Diversity and Inclusion will host a Montgomery Lecture presented by Kate Masur, PhD, Associate Professor and Wayne V. Jones II Research Professor of History, Northwestern University. Her talk is titled "Color Was a Bar to the Entrance: Black Physicians at the White House during the Civil War." This talk emphasizes civil rights struggles during the American Civil War, focusing on the activism of two black physicians in the US Army, Alexander Augusta and Anderson Abbott. Lunch will be provided on a first come, first served basis. All are welcome.
back to top