Galter Library staff have been publishing, presenting, and contributing to their profession in big ways over the last several months. Here's a taste of what we've been up to.
back to top
Papers (Galter authors in bold)
Karmali KN, Persell SD, Perel P, Lloyd-Jones DM, Berendsen MA, Huffman MD. Risk scoring for the primary prevention of cardiovascular disease. Cochrane Database Syst Rev. 2017 Mar 14;3:CD006887. doi:10.1002/14651858.CD006887.pub4 PubMed PMID: 28290160.
Luo Y, Thompson WK, Herr TM, Zeng Z, Berendsen MA, Jonnalagadda SR, Carson MB, Starren J. Natural Language Processing for EHR-Based Pharmacovigilance: A Structured Review. Drug Saf. 2017 Jun 22. doi: 10.1007/s40264-017-0558-6 [Epub ahead of print] PubMed PMID: 28643174.
Sita TL, Petras KG, Wafford QE, Berendsen MA, Kruser TJ. Radiotherapy for cranial and brain metastases from prostate cancer: a systematic review. J Neurooncol. 2017 May 25. [Epub ahead of print] PubMed PMID: 28547593.
Wilson AB, Miller CH, Klein BA, Taylor MA, Goodwin M, Boyle EK, Brown K, Hoppe C, Lazarus M. A meta-analysis of anatomy laboratory pedagogies. Clin Anat. Epub 2017 Jun 13.
Balbale SN, Trivedi I, O' Dwyer LC, McHugh M, Evans CT, Jordan N, Keefer L. Strategies to identify and reduce opioid misuse among patients with gastrointestinal disorders: A systematic scoping review . Dig Dis & Sci. In Press.
back to top
Presentations and Posters
Pastva J, Shank J. Capturing and Analyzing Publication, Citation, and Usage Data for Contextual Collection Development. Also credited on the presentation as collaborators were Kubilius RK, Gutzman K, and Kaul M. NASIG 2017, Indianapolis, June 8-11, 2017.
Shank J. Does COUNTER tell the whole story? Case-by-case examples demonstrating the limitations of COUNTER, and suggestions for alternative evaluation metrics. CARLI Spring Forum on Collections Data Analysis and Maintenance. Governors State University, April 28, 2017.
Shank J. Strategies for re-establishing legacy license agreements. Electronic Resources & Libraries (ER&L) 2017 Conference. Austin, TX, April 4, 2017.
Peterson J, Gutzman K, Miller C. Can I Get a Visual? The Impact of the New Clinical Informationist Program. Medical Library Association conference, Seattle, WA, May 29, 2017. Available at: http://dx.doi.org/10.18131/G3P99J
Olson T. Interoperability Among Knowledge Organization Systems: Mapping the LCSH and MeSH Systems. APLIC Annual Conference, April 25, 2017.
Wishnetsky S. Internet Archive: ideas for proactive and patron-friendly use. ALCTS Collection Management and Electronic Resources Interest Group (CMERIG) meeting, American Library Association 2017 conference, Chicago, IL, June 25, 2017.
Gutzman K, Suiter A, Reznik-Zellen R, Palmer L, Belter C, Lu Ya-Ling, Holmes K, Wheeler T, Bales ME, Chambers T, Chan L, Sarli C. Implementing the Vision: Making Research Evaluation Services a Reality. Paper presented at: Medical Library Association Annual Conference: 2017, May 26-31; Seattle, WA.
Shaw P, Gutzman K. Keeping up with Demand: Doing NIH Biosketch Support. Lightning Talk presented at: Medical Library Association Annual Conference: 2017, May 26-31; Seattle, WA. Available at: http://dx.doi.org/10.18131/G3F420
Gutzman KE, Holmes K. Visualizing Context and Concepts in the Clinical and Translational Sciences. [Clarivate Analytics Technology Showcase] Medical Library Association Annual conference; 2017; May 26-31; Seattle, WA.
Gutzman KE. Evaluating Research Impact: a Sweeping View of the the Landscape. [invited speaker] APLIC Population Information Professionals Annual Conference; 2017, April 24-26; Chicago, IL. Available at: http://dx.doi.org/10.18131/G3PD05
back to top
Panels and Webinars
Taylor M, Gunn W, Gutzman K, Holmes K. (2017, June). Supporting Open Research, Discovery, and Impact in Academic Research. Panel discussion on Understanding Academic Research: Free and Low-Cost Tools & Workflows presented at: American Library Association Annual Conference, ALCTS Scholarly Communication Interest Group Program; 2017, June 24; Chicago, IL. Available at: http://dx.doi.org/10.18131/G3X97Z
Gutzman K. (2017, June). Enhancing the Visibility and Dissemination of Research. Panel discussion on Impactful Partnerships: Navigating the Evolving Scholarly Communication Landscape with Faculty presented at: American Library Association Annual Conference; 2017, June 25. Chicago, IL. Available at: http://dx.doi.org/10.18131/G3M91W
Belter C, Lu Ya-Ling, Gutzman K, Holmes K, Wheeler T, Bales M, Bakker C, Sarli C, Suiter A, Gore S, Chambers T, Chan Liza. (2017, May). From Dreaming to Doing. Implementing Research Impact Assessment Services. Panel discussion presented at: Medical Library Association Annual Conference; 2017, May 30; Seattle, WA
Gutzman KE. Impactful Partnerships: Working with Faculty to Enhance Visibility and Dissemination of Research. [webinar]. NNLM South Central Region; 2017, August 9; Chicago, IL. Available at: http://dx.doi.org/10.18131/G33F07
back to top
Awards and Nominations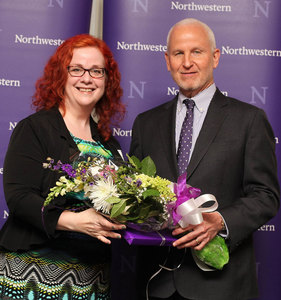 Biosciences & Bioinformatics Librarian, Pamela Shaw, received recognition for her incredible contributions to the Northwestern University community with a nomination for Northwestern University's 2017 Employee of the Year. Pamela has stepped up in many extraordinary ways over the course of her 17+year career at Northwestern University and this commitment and dedication to Northwestern University only grows stronger. Her attention to detail, service to patrons, clever and creative problem solving, and insightful contributions have been immensely impactful to our library and to Northwestern University.
back to top
Congratulations and Welcome!
Mark Berendsen has been promoted to Deputy Director of Galter Library
In his nearly 15-year career at Galter Library, Mark has served multiple roles across several service areas, including electronic resources management, research support, and collection management. He most recently served as Head of Research and Information Services, guiding a growing team of librarians who provide innovative programs and services in a variety of domains including: clinical informationist services, bioinformatics support, systematic review services, course-integrated instruction and curriculum support, evidence-based practice and information literacy training, and the Metrics and Impact Core.
Mark will work more closely with library administration and other Feinberg stakeholders to advance key initiatives in the library and on campus. As Deputy Director, Mark will maintain day-to-day responsibility for library functions and work with the leadership team on strategic planning, faculty and staff recruitment, procedure and policy development, and championing an engaged, inclusive, and collaborative environment for all. He will be involved in library-wide planning, budgeting, facilities, and staffing decisions at a time of continued growth and opportunity at Galter. Congratulations, Mark!
Patty Smith will transition to a new role at Galter Library as Impact and Dissemination Librarian
Patty has served as a Research Librarian at Galter Health Sciences Library since 2015 and is excited to transition into this new position. Her professional interests include scientific writing and navigating the publishing and dissemination process. She's been active in providing trainings on these topics on campus; she offered a Scientific Writing Seminar Series on campus in June 2017, and she organized a Dissemination, Impact and Access Workshop on campus in July 2017. In this new role, Patty hopes to build on the success of these workshops and develop new resources and seminars to build a robust support system for stakeholders across the university, with the goal of streamlining the research dissemination process and taking the guesswork out of impact and evaluation. Patty is thrilled to work with colleagues across campus in a new capacity and support the efforts of the Metrics and Impact Core. Congratulations, Patty!
Brett Cimbalik joins Galter as the new Borrowing Lead in Interlibrary Loan
Brett will manage all of the Document Delivery requests from our patrons for items from both our print and electronic collections as well as any requests for items we don't own. His last position was at Columbia University where he was a Bibliographic Assistant in the Preservation and Digital Conversion Division. Before that he worked in Interlibrary Loan at Columbia University and also as a paraprofessional in outreach services at the Ypsilanti District Library. Welcome aboard, Brett!
back to top
Updated: September 25, 2023