New Staff at Galter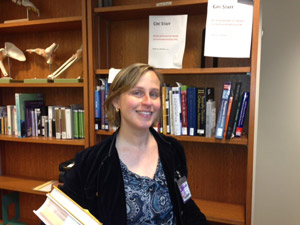 Mary Anne Zmaczynski recently joined Galter Library as our Public Services Librarian. A graduate of Dominican University (MLIS) and Smith College (BA – Mathematics), Mary Anne spent the last 3.5 years at DeVry University's Chicago Campus Library as Instruction and Reference Librarian. She also volunteers weekly at the library at the Shedd Aquarium. Prior to becoming a librarian, Mary Anne worked in systems and software consulting. If you have any questions about user services at Galter Library, give her a call at 312-503-6898 or send her an email.

Professional Meetings

Ramune K. Kubilius, Collection Development / Special Projects Librarian, completed three years of committee service as the Section Council liaison to the 2013 National Program Committee. The NPC planned the international federated meeting that took place in Boston from May 3-8, 2013 and incorporated the 2013 Annual Meeting and Exhibition of the Medical Library Association (MLA '13), the 11th International Congress on Medical Librarianship (ICML), the 7th International Conference of Animal Health Information Specialists (ICAHIS), and the 6th International Clinical Librarian Conference (ICLC).
back to top

Pamela Shaw, Biosciences and Bioinformatics Librarian, served the last year of her two-year term as Convener for the Molecular Biology and Genomics Special Interest Group of the Medical Library Association. During her time as MolBio SIG convener, she successfully established a new MolBio SIG website for sharing resources, news and educational opportunities.
Tony Olson, Cataloging Librarian, attended the American Library Association conference in June 2013. As well as his committee participation with the Association for Library Collections and Technical Services Division, Subject Analysis Committee (SAC), and the SAC RDA (Resource Description and Access) Subcommittee, he also attended an all-day preconference on RDF and Ontologies for the Semantic Web as well as programs on data curation and embedded metadata. As a member of the RDA Subcommittee, he is the principal author of a discussion paper on the "Treatment of Subjects in RDA," which will be sent to the Joint Steering Committee for Development of RDA later this year.

Posters, Publications, and Presentations
Ramune Kubilius presented a poster with Melissa L. Rethlefsen at the Medical Librarian Association (MLA) conference in Boston, MA in May 2013, entitled: One (Online) Site: A New Paradigm for MLA Concurrent Session Planning?
Ramune also wrote a report on: The 2013 annual meeting of the Medical Library Association: Federated and International in: The Charleston Report: Business Insights into the Library Market 17(6): 4, May/June 2013.



James Brucker, Instructional Design Librarian, Heidi Nickisch Duggan, Interim Director, and Linda O'Dwyer, Communications Coordinator and Education Librarian, presented a poster at MLA 2013 called One Survey to Rule Them All: How to Design a Comprehensive User-Centered Customer Satisfaction Survey.
Pamela Shaw presented a paper at MLA 2013 called Taking Translational Science to the Community: Working with Community-Engaged Health Research Organizations.
James Brucker co-authored an article: Jain N, Anderson MJ, Patel P, Blatt H, Davis L, Bierman J, McGaghie W, Brucker JB, Martini M, Robinson JK. Melanoma simulation model: promoting opportunistic screening and patient counseling. JAMA Dermatol. 2013 Jun 1;149(6):710-6. doi: 10.1001/jamadermatol.2013.2882.

From January through mid-March, Ronald Sims, Special Collections Librarian, facilitated two history of medicine seminars as part of the Medical Humanities and Bioethics Program, an elective for M1 and M2 students, covering 5,000 years of medical history in five weeks. Focusing on the modern period (1501 to the present), students read from primary texts. Highlighted works included Andrew Boorde's Breviary of healthe, for all maner of syckenesses and diseases the which may be in man or woman (1557); John Tanner's Hidden treasures of the art of physic (1659); Peter Shaw's New practice of physic (1738); and many others from the rare book collection.
At this year's Science of Team Science (SciTS) conference, held June 24-27 in Evanston, Pamela Shaw presented a poster with co-authors, Cunera Buys and Steven Adams of the Seeley G. Mudd Library entitled The Power of the Library in Team Science.
Pamela was featured in the June/July Issue of MLA News: "Turning Points: Opinions On Emerging Issues: Team Science, Part 1. An Interview with Pamela Shaw, Biosciences and Bioinformatics Librarian, Galter Health Sciences Library, Northwestern University, Chicago, IL." Edited by James Shedlock, AHIP, FMLA, and Carol Ann Attwood, AHIP.

And Finally...
During Alumni Weekend, April 19-20, Ron was a docent for Medical Campus Walking Tours. He delivered current and historical commentary on the many changes on the campus. The tours included the updates and improvements in the Method Atrium and the Ward-Morton corridor; new laboratories on Searle 10; the Galter Library; Prentice Women's Hospital; Lurie Children's Hospital; and Lurie Medical Research Center.
back to top
Updated: September 25, 2023