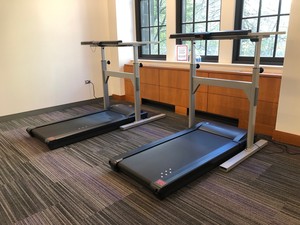 Galter Library is excited to announce the arrival of two upgraded treadmill desks for the walking desk stations on the 2nd floor. The new TR5000 treadmills feature a whisper-quiet, commercial-grade motor, and a 1" thick walking surface. They're built to power through thousands of hours of use during hard-working days and productive evenings.
Wondering what all the buzz is about? Walking at a slow speed (around 2 mph) while reading or working can improve your productivity, energy, stress levels and overall health.
The treadmill desks are located on the second floor of the library just past Dollie's Corner. They're available to all patrons on a first-come, first-served basis. Please wear athletic shoes while using the treadmills and limit your time to 30 – 45 minutes when others are waiting. Report any problems with the treadmills to staff at the front desk or send us a message.
back to top
Updated: November 8, 2021