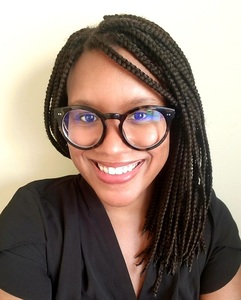 Please join us in welcoming Krystal Madkins, MPH, MLIS, to Galter Library as our new Education and Curriculum Librarian! Krystal is a member of our Research and Information Services department enhancing integrated support across educational activities including curricular design, planning, and instruction for the Feinberg community.
Krystal earned a BA in sociology from Bryn Mawr College and an MPH in epidemiology from the University of Illinois at Chicago (UIC). She recently completed her MSLIS at the University of Illinois Urbana Champaign where she focused her studies on academic librarianship and instructional strategies, design, and eLearning to support the development of information literacy. Her training included serving as a library apprentice at the University of Colorado Boulder (CU Boulder) and completing a health sciences librarianship practicum at both UIC and Loyola University.
In addition to her experience in academic libraries, Krystal has over 10 years of research and project management experience at Northwestern. Most recently, she worked as a Clinical Research Associate overseeing the daily operations of an NIH funded trial led by researchers at the Institute for Sexual and Gender Minority Health and Wellbeing (ISGMH). Krystal also served as the Recruitment & Retention Core Director at ISGMH and the Lead Consultant for the Social Media Consultation Program, a collaborative program between ISGMH and NUCATS for optimizing recruitment strategies of research teams across Feinberg. Throughout her time in research, she has prioritized building and maintaining relationships that motivate teams toward their goals and facilitate meaningful collaborations.
We are thrilled to welcome Krystal to the Galter Team and are excited about the ways that her experience and expertise will advance innovative instructional delivery at Galter and cultivate collaborations that best support the research and educational needs of Feinberg students, faculty, and staff.
View Krystal's Professional Profile
Krystal serves as the Liaison Librarian to the following Departments & Programs:
Departments
Programs
MD Program
Biomedical Engineering Program
Honors Program in Medical Education (HPME)
Master of Public Health (MPH)
Master of Genetic Counseling
Master of Science in Health Informatics
Master of Science in Prosthetics and Orthotics (MPO)
Master of Science in Regulatory Compliance
Master of Science in Reproductive Science & Medicine (MS-RSM)
Physical Therapy (DPT)
Physician Assistant
back to top