Corinne Miller, MLIS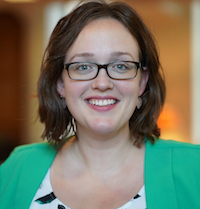 Clinical Informationist
Ward 1-188
Phone: (312) 503-5459
Email corinne.miller@northwestern.edu
back to top
As part of our clinical informationist service, I attend clinical meetings and provide research support to attendings, residents, and students on patient rounds. Often, during rounds, clinicians require evidence to help inform patient care. My goal is to locate that evidence in the literature and share it with the team.
I also act as a liaison to the departments and divisions listed below. If you are a member of any of these groups, please feel free to contact me for assistance via email or phone.
back to top
Publications and Presentations

https://orcid.org/0000-0002-9262-152X
Walsh LA, Wu E, Pontes D, Kwan KR, Poondru S, Miller CH, Kundu RV. Keloid treatments: an evidence-based systematic review of recent advances. Syst Rev. 2023 Mar 14;12(1):42. doi: 10.1186/s13643-023-02192-7. PMID: 36918908.
Rastogi S, Thiede R, Sadowsky LM, Hua T, Rastogi A, Miller C, Schlosser BJ. Sex differences in initial treatment for genital extramammary Paget disease in the United States: A systematic review. J Am Acad Dermatol. 2023 Mar;88(3):577-586. doi: 10.1016/j.jaad.2019.04.046. Epub 2019 Apr 20. PMID: 31015011.
Puri A, Lee CK, Feinglass JM, Chen Y, Lee J, Miller CH, Peterson J, Didwania AK. Designing a Checklist for Directly Observing Use of One-Minute Preceptor Steps on Inpatient Rounds: A Pilot Study. J Contin Educ Health Prof. 2023 Jan 1;43(1):65-67. doi: 10.1097/CEH.0000000000000456. PMID: 36849431.
Liu JJ, DeCuir N, Kia L, Peterson J, Miller C, Issaka RB. Tools to Measure the Impact of Structural Racism and Discrimination on Gastrointestinal and Hepatology Disease Outcomes: A Scoping Review. Clin Gastroenterol Hepatol. 2022 Dec 20:S1542-3565(22)01167-3. doi: 10.1016/j.cgh.2022.12.002. Epub ahead of print. PMID: 36549469.
Labadie JG, Ibrahim SA, Worley B, Kang BY, Rakita U, Rigali S, Arndt KA, Bernstein E, Brauer JA, Chandra S, Didwania A, DiGiorgio C, Donelan M, Dover JS, Galadari H, Geronemus RG, Goldman MP, Haedersdal M, Hruza G, Ibrahimi OA, Kauvar A, Kelly KM, Krakowski AC, Miest R, Orringer JS, Ozog DM, Ross EV, Shumaker PR, Sobanko JF, Suozzi K, Taylor MB, Teng JMC, Uebelhoer NS, Waibel J, Wanner M, Ratchev I, Christensen RE, Poon E, Miller CH, Alam M. Evidence-Based Clinical Practice Guidelines for Laser-Assisted Drug Delivery. JAMA Dermatol. 2022 Oct; 158(10):1193-1201. doi: 10.1001/jamadermatol.2022.3234. PMID: 35976634.
Jibbe A, Worley B, Miller CH, Alam M. Surgical excision margins for fibrohistiocytic tumors, including atypical fibroxanthoma and undifferentiated pleomorphic sarcoma: A probability model based on a systematic review. J Am Acad Dermatol. 2022 Oct;87(4):833-840. doi: 10.1016/j.jaad.2021.09.036. Epub 2021 Sep 26. PMID: 34587553.
Fox RS, Zhang M, Amagai S, Bassard A, Dworak EM, Han YC, Kassanits J, Miller CH, Nowinski CJ, Giella AK, Stoeger JN, Swantek K, Hook JN, Gershon RC. Uses of the NIH Toolbox® in Clinical Samples: A Scoping Review. Neurol Clin Pract. 2022 Aug;12(4):307-319. doi: 10.1212/CPJ.0000000000200060. PMID: 36382124; PMCID: PMC9647815.
Li DH, Benbow N, Keiser B, Mongrella M, Ortiz K, Villamar J, Gallo C, Deskins JS, Xavier Hall CD, Miller C, Mustanski B, Smith JD. Determinants of Implementation for HIV Pre-exposure Prophylaxis Based on an Updated Consolidated Framework for Implementation Research: A Systematic Review. J Acquir Immune Defic Syndr. 2022 Jul 1;90(S1):S235-S246. doi: 10.1097/QAI.0000000000002984. PMID: 35703776.
Kang BY, Li AW, Lee MH, Wong CC, Naseer N, Ibrahim SA, Miller CH, Keimig EL, Poon E, Alam M. The safety and efficacy of autologous adipose-derived stromal vascular fraction for nonscarring alopecia: A systematic review. Arch Dermatol Res. 2022 May;314(4):349-56. doi: 10.1007/s00403-021-02238-7.
Plantz MA, Sherman AE, Miller CH, Hardt KD, Lee YC. Outcomes of total knee arthroplasty in patients with rheumatoid arthritis. Orthopedics. 2021 Sep-Oct;44(5):E626-32. doi: 10.3928/01477447-20210817-01.
Lester-Smith RA, Miller CH, Cherney LR. Behavioral therapy for tremor or dystonia affecting voice in speakers with hyperkinetic dysarthria: A systematic review. J Voice. 2021 Jun. doi: 10.1016/j.jvoice.2021.03.026.
Chang SR, Miller CH, Kaluf B. Effects of Hydraulic Ankle-Foot Prostheses on Gait in Individuals with Transtibial Limb Loss. J Prosthet Orthot. 2021 Apr;33(2):101-109. doi: 10.1097/JPO.0000000000000319.
Premkumar A, Ayala NK, Miller CH, Grobman WA, Miller ES. Postpartum NSAID Use and Adverse Outcomes among Women with Hypertensive Disorders of Pregnancy: A Systematic Review and Meta-analysis. Am J Perinatol. 2021 Jan; 38(1):1-9. doi: 10.1055/s-0040-1713180. PMID: 32682329.
Gard LA, Bartell T, Shah AK, Setrini AB, Sheehan K, Miller CH, Paquette ET. Interprofessional Education in Medical-Legal Partnerships (MLPs) to Address Social Determinants of Health. J Health Care Poor Underserved. 2021;32(4):1720-1733. doi: 10.1353/hpu.2021.0161.
Shevach JW, Weiner AB, Kasimer RN, Miller CH, Morgans AK. Risk Assessment and Considerations for Proper Management of Elderly Men with Advanced Prostate Cancer: A Systematic Review. Eur Urol Oncol. 2020 Aug;3(4):400-409. doi: 10.1016/j.euo.2020.03.006. Epub 2020 May 26. PMID: 32471792.
Miller CH, Wescott A, Kubilius RK, Wafford QE. Development and Validation of a Search Filter in PubMed MEDLINE for Immigrant Health Disparities. Poster presented at MLA '19, the 119th Annual Meeting of the Medical Library Association; 2019 May 3-8; Chicago, IL. doi: 10.18131/g3-861k-y439.
Hopkins-Rossabi T, Curtis P, Temenak M, Miller C, Martin-Harris B. Respiratory Phase and Lung Volume Patterns During Swallowing in Healthy Adults: A Systematic Review and Meta-Analysis. J Speech Lang Hear Res. 2019 Apr;62(4):868-882. doi: 10.1044/2018_JSLHR-S-18-0323. PMID: 30964715; PMCID: PMC6802879.
Gard LA, Peterson J, Miller C, Ghosh N, Youmans Q, Didwania A, Persell SD, Jean-Jacques M, Ravenna P, O'Brien MJ, Sanghavi Goel M. Social Determinants of Health Training in U.S. Primary Care Residency Programs: A Scoping Review. Acad Med. 2019 Jan;94(1):135-143. doi: 10.1097/ACM.0000000000002491. PMID: 30334837.
Wilson AB, Brown KM, Misch J, Miller CH, Klein BA, Taylor MA, Goodwin M, Boyle EK, Hoppe C, Lazarus MD. Breaking with Tradition: A Scoping Meta-Analysis Analyzing the Effects of Student-Centered Learning and Computer-Aided Instruction on Student Performance in Anatomy. Anat Sci Educ. 2019 Jan;12(1):61-73. doi: 10.1002/ase.1789. PMID: 29659155.
Dickins KA, Buchholz SW, Rivero T, Miller C. A review of reviews: Sedentary behaviour and cardiovascular disease specific to older people. Int J Older People Nurs. 2018 Dec;13(4):e12211. doi: 10.1111/opn.12211. Epub 2018 Nov 5. PMID: 30394684.
McAninch EA, Rajan KB, Miller CH, Bianco AC. Systemic Thyroid Hormone Status During Levothyroxine Therapy In Hypothyroidism: A Systematic Review and Meta-Analysis. J Clin Endocrinol Metab. 2018 Aug;103(12):4533–42. doi: 10.1210/jc.2018-01361. PMID: 30124904; PMCID: PMC6226605.
Wafford QE, Miller CH, O'Dwyer, LC. Validating the MEDLINE®/PubMed® Health Disparities and Minority Health Search Strategy. Spotlight: Race and Ethnicity. Poster session presented at: Medical Library Association 118th Annual Meeting and Exhibition; 2018 May 18-23; Atlanta, GA. doi: 10.18131/g3-ym2p-jz73.
Costa RB, Costa RLB, Talamantes SM, Kaplan JB, Bhave MA, Rademaker A, Miller C, Carneiro BA, Mahalingam D, Chae YK. Systematic review and meta-analysis of selected toxicities of approved ALK inhibitors in metastatic non-small cell lung cancer. Oncotarget. 2018 Apr;9(31):22137-22146. doi: 10.18632/oncotarget.25154. PMID: 29774128; PMCID: PMC5955140.
Wilson AB, Miller CH, Klein BA, Taylor MA, Goodwin M, Boyle EK, Brown K, Hoppe C, Lazarus M. A meta-analysis of anatomy laboratory pedagogies. Clin Anat. 2018 Jan;31(1):122-133. doi: 10.1002/ca.22934. PMID: 28612403.
Becker EA, Hoerr CA, Wiles KS, Skees DL, Miller CH, Laher DS. Utilizing Respiratory Therapists to Reduce Costs of Care. Respir Care. 2018 Jan;63(1):102-117. doi: 10.4187/respcare.05808. PMID: 29184048.
Miller CH, Peterson J, Gutzman KE. Visualizing the Impact of a New Clinical Informationist Service [webinar]. In the National Network of Libraries of Medicine Kernel of Knowledge webinar series; 2017; Sep. 26. Available at https://www.youtube.com/watch?v=AHhW0vShpjo.
Peterson J, Miller CH, Gutzman KE. Can I get a visual? The impact of the new clinical informationist program. Poster session presented at: Medical Library Association 117th Annual Meeting and Exhibition; 2017 May 26-31; Seattle, WA. doi: 10.18131/G3P99J.
back to top