Corinne Miller, MLIS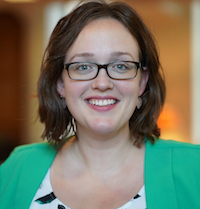 Clinical Informationist
Ward 2-330
Phone: (312) 503-5459
Email corinne.miller@northwestern.edu
back to top
As part of our growing clinical informationist service, I attend clinical meetings and provide research support to attendings, residents, and students on patient rounds. Often, during rounds, clinicians require evidence to help inform patient care. My goal is to locate that evidence in the literature and share it with the team.
I also act as a liaison to the departments and divisions listed below. If you are a member of any of these groups, please feel free to contact me for assistance via email or phone.
back to top
Publications and Presentations
orcid.org/0000-0002-9262-152X
Becker EA, Hoerr CA, Wiles KS, Skees, DL, Miller CH, Laher DS. Utilizing respiratory therapists to reduce costs of care. Respir Care. 2017 Nov.
Peterson J, Miller CH, Gutzman KE. Can I get a visual? The impact of the new clinical informationist program. Poster session presented at: Medical Library Association 117th Annual Meeting and Exhibition; 2017 May 26-31; Seattle, WA.
Wilson AB, Miller CH, Klein BA, Taylor MA, Goodwin M, Boyle EK, Brown K, Hoppe C, Lazarus M. A meta-analysis of anatomy laboratory pedagogies. Clin Anat. Epub 2017 Jun 13.
Miller CH, Peterson J, Gutzman KE. Visualizing the Impact of a New Clinical Informationist Service [webinar]. In the National Network of Libraries of Medicine Kernel of Knowledge webinar series; 2017; Sep. 26. Available at https://www.youtube.com/watch?v=AHhW0vShpjo.
back to top
Updated: May 8th, 2018 11:31