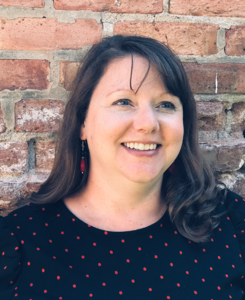 Molly Beestrum, MLIS
Education and Curriculum Coordinator
Ward, 1-196
Phone: 312-503-4508

orcid.org/0000-0001-6524-6464
Email Molly
back to top
I serve as the Education and Curriculum Coordinator at Galter Health Sciences Library & Learning Center at Northwestern University where I design, coordinate, and deliver group user instruction in a variety of curricular environments, providing point-of-need consultation and research question follow-up, and collaboration with key constituents on research projects. I work closely with the Office of Medical Education and other programs on campus to help support the success of these programs and identify new opportunities to work together in support of students and faculty in the Feinberg School of Medicine.
back to top
Liaison Areas
Departments
Medical Education
Obstetrics & Gynecology
Centers and Institutes
Center for Bioethics and Medical Humanities
Center for Education in Health Sciences
Center for Engineering and Health
Women's Health Research Institute
Programs
MD Program
Biomedical Engineering Program
Honors Program in Medical Education (HPME)
Master of Public Health (MPH)
Master of Genetic Counseling
Master of Science in Health Informatics
Master of Science in Prosthetics and Orthotics (MPO)
Master of Science in Reproductive Science & Medicine (MS-RSM)
Physical Therapy (DPT)
Physician Assistant
back to top
Publications
Mou T, Warner K, Brown O, Yeh C, Beestrum M, Kenton K, et al. Prevalence of pelvic organ prolapse among US racial populations: A systematic review and meta-analysis of population-based screening studies. Neurourology and Urodynamics. 2021;n/a(n/a). doi: https://doi.org/10.1002/nau.24672.
Radakrishnan A, Reddy AT, Dalal P, Rastatter JC, Josefson JL, Samis JH, Beestrum M, Tian Y, Raval MV. Hypocalcemia prevention and management after thyroidectomy in children: A systematic review. J Pediatr Surg. 2020. doi: 10.1016/j.jpedsurg.2020.08.032.
Reyes AM, Akanyirige PW, Wishart D, Dahdouh R, Young MR, Estrada A, Ward C, Cruz Alvarez C, Beestrum M, and Simon MA. Interventions Addressing Social Needs in Perinatal Care: A Systematic Review. Health Equity. 2021;5(1):100-18. doi: 10.1089/heq.2020.0051.
Shlobin NA, LoPresti MA, Beestrum M, Lam S. Treatment of pediatric cerebral venous sinus thromboses: the role of anticoagulation. Child's Nervous System. 2020. doi: 10.1007/s00381-020-04829-7.
Tegtmeyer K, Zhao J, Maloney NJ, Atassi G, Beestrum M, Lio PA. Off-label studies on tofacitinib in dermatology: a review. Journal of Dermatological Treatment. 2019:1-11. doi: 10.1080/09546634.2019.1673877.
Thirunavu VM, Mohammad LM, Kandula V, Beestrum M, Lam SK. Vision Outcomes for Pediatric Patients With Optic Pathway Gliomas Associated With Neurofibromatosis Type I: A Systematic Review of the Clinical Evidence. J Pediatr Hematol Oncol. 2021 Jan 20. doi: 10.1097/MPH.0000000000002060. Epub ahead of print. PMID: 33480655.
back to top
Presentations
Mou T, Warner K, Brown O, Yeh C, Beestrum M, Kenton K, et al. Prevalence of Pelvic Organ Prolapse in US Racial Populations: A Systematic Review and Meta-Analysis of Population-Based Screening Studies. Neurourology and Urodynamics. 2020;39:S74-S5. PubMed PMID: WOS:000544770200046.
Salisbury M, Beestrum M, Garcia L. Creativity in Information Literacy: Lessons from the Art School Library Classroom. Session presented at: Information Literacy Summit; 2018, May 31; Palos Hills, IL.
Beestrum M. Remember the Research Consultation? Engaging the Framework in Thesis and Capstone Level Courses. Session presented at: CARLI Instruction Showcase; 2018, June 15; River Forest, IL.
Beestrum M, Willette K, Wainwright A. When Social Media Fails to Inspire: Transforming your library's social media presence. Presentation at Cyber Zed Shed session of ACRL Conference; 2013, April 10-13; Indianapolis, IN.
Beestrum M, Anderson C, Levy A. EBSCO Discovery in the I-Share Environment: EDS Selection & Implementation at Columbia College Chicago. [webinar]. CARLI Discovery System Webinar; 2013, April 10.
Beestrum M. Discovery Tools are Like Shopping for Jeans. Presentation at: CARLI Instruction Showcase; 2013, June 19; ; Normal, IL.
Beestrum M, Hite K, DeHart B. UCC Collaborative Remote Reference. Presentation at: ILA Annual Conference; 2011, October 18-20; Rosemont, IL.
Beestrum M, Willette K. Ask 'This' Librarian: Embedding the Library in the LMS. Presentation at: LOEX Annual Conference; 2010, April 29- May 1; Dearborn, MI.
Beestrum M, Orenic K. Wiki-ing Your Way into Collaborative Learning. Presentation at: LOEX Annual Conference; 2008, May 1-3; Oak Brook, IL.
back to top