Memorial Day is a federal holiday observed yearly on the last Monday of May (this year on May 27). Originally known as Decoration Day, Memorial Day originated in the years following the Civil War and became an official federal holiday in 1971, established as a day of remembrance for those who have died in military service for the United States. In 2019, several wartime anniversaries will be commemorated. World War I ended with the Treaty of Versailles one hundred years ago, on June 28, 1919, and June 6th marks the 75th anniversary of the D-Day landings in 1944, a pivotal moment in World War II.
This is a round-up of several Galter Library articles, presentations, and exhibits, all noting that since the founding of Northwestern's medical school in 1859, the faculty, students, staff, and graduates have been ready to provide their medical, surgical, and other expertise in times of strife and conflict. An overview of Northwestern's contributions entitled "Medicine, Surgery and Military Conflicts: Northwestern's Contribution to War Efforts" was a contributed posting in the medical history blog of Ward Rounds (now called Northwestern Medicine Magazine) in October 2013.
back to top
Civil War
Over the years, Galter Library has created and hosted several exhibits about the Civil War era. In fact, one of the medical school's founders, Dr. Edmund Andrews, whose portrait hangs in Galter Library, accumulated significant battlefield medicine experience at the time. In 2010, a library exhibit featured "Military Medical Men of the Civil War." More recently, the library hosted two National Library of Medicine traveling exhibits: "Life and Limb: The Toll of the American Civil War" and "Binding Wounds, Pushing Boundaries: African Americans in Civil War Medicine." These exhibits highlighted Northwestern faculty and alumni, and included books, photographs, and other artifacts from its collections.
back to top
World Wars I and II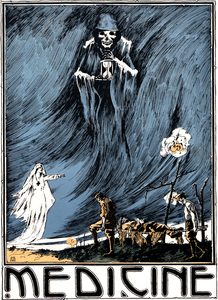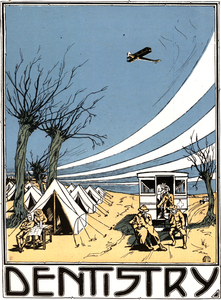 During World War I and World War II, medical officers were recruited from Northwestern University and other local medical schools to staff military unit hospitals overseas. Base Hospital No. 12, as it was named in World War I, became the 12th General Hospital in 1942 (a reserve unit was formed earlier, in 1936). A series of articles appeared in the post-war years in the Quarterly Bulletin of Northwestern University Medical School, now digitized and available in PubMed Central. In April 2019, second year National Library of Medicine fellow, librarian Gabrielle Barr, presented on one of her major projects at Galter Health Sciences Library & Learning Center, "Operation Saving Lives: A Digital Exhibit about the 12th General Hospital During WWII", at the ALHHS (Archivists and Librarians in the History of the Health Sciences) / MeMA (Medical Museums Association) 2019 Annual Meeting in Columbus, Ohio.
During wartime, university publications reflected historical events students saw around them, as depicted by these illustrations from medical and dental schools' sections in the 1919 Northwestern University student yearbook.
Northwestern's medical library was also involved in providing assistance and service during the World War II years, as described by then library director, Louise Walker, in a 1943 Bulletin of the Medical Library Association article. The library shared its substantial European medical journal library holdings with other libraries through interlibrary loan services. Other activities included setting up a special military medicine collection in the library, extending direct library service to all medical officers in uniform who needed information assistance, answering many questions on military medicine and army organization, and giving advice about selection of books on non-medical information, including selective service and "all the other machinery of war."
back to top
News on Galter Library's project to collate, analyze, digitize, and create an online exhibit about the 12th General Hospital wartime period, as well as other historical collections projects, is forthcoming. To learn more about the history of medicine or to further explore the history of Northwestern's health professional schools, please contact Galter Health Sciences Library & Learning Center's Special Collections Department.
back to top