In March, we celebrate National Women's History Month with a round-up of several Galter Library articles, presentations, exhibits, and posters, all remembering the lives of Northwestern's pioneering female graduates and their accomplishments.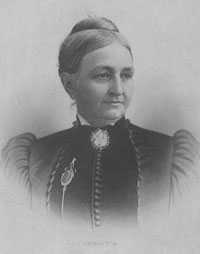 A Brief History of Co-Education at the Medical School examines Northwestern's education of women in medicine, and illustrates the decisions that led to Dr. Mary Harris Thompson being awarded an MD ad eundem in the Spring of 1870, as well as the formation of a separate medical school for women. A series of Galter Health Sciences Library posters, "Woman's Medical School at Northwestern University, 1870-1902" (1, 2, 3), was featured as an adjunct to the U.S. National Library of Medicine's traveling exhibit, "Changing the Face of Medicine - Celebrating America's Women Physicians" that was displayed on Chicago's campus from December 2009-January 2010.
Remembering Graduates of the Northwestern University Woman's Medical School highlights the lives of a number of pioneers, including Dr. Emma Reynolds, a graduate of Provident Hospital's training school for nurses, who was provided with a "Certificate of Character" for admission to the Northwestern University Woman's Medical School by Dr. Daniel Hale Williams, and graduated in 1895. Dr. Olive Myrtle Henderson, whose life is highlighted in African-American Medical and Dental Pioneers, completed her dental education at Northwestern University Dental School and graduated in 1908. She was the first female African American to graduate from Northwestern with a dental degree and the second female African American to practice dentistry in Chicago. Accomplishments of other African-American graduates were highlighted in February in celebration of Black History Month.
A Quota of Four describes the first female students once Northwestern University Medical School opened its doors to women in 1926 upon moving to the current campus on Chicago Avenue. Northwestern's pioneering alumnae, whose strides in the health professions serve as examples for others, include Drs. Mary Harris Thompson, Verna Anne Christophel, Lucy Alice Gaynor, Olive Myrtle Henderson, Emma Reynolds, Elizabeth Adrienne Sirmay, Edna Mae Ward, Julia L. Woodzicka, and many others.
To learn more about the history of medicine or to further explore the history of Northwestern's health professional schools, please contact Galter Health Sciences Library & Learning Center's Special Collections Department.
back to top