Ever wonder about tracking all that "science" happening at Feinberg School of Medicine?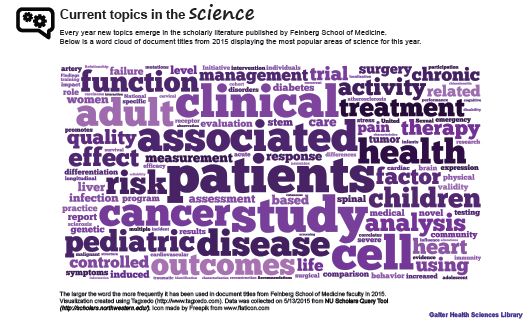 The new "Visualizing Science at FSM" display on Level 1 of the Galter Health Sciences Library visually highlights the people, publications, trends, and collaboration patterns behind research at FSM. On display are a tree map of publication contributions by department, a world map of co-authors, a list of topics trending in 2015, and more. Reflecting the "visual" theme, we have integrated instruments from the library's Special Collections, including a view-finder and antique dentist's mirrors.
Additionally, a smaller display case visually highlights the publication patterns of the Quarterly Bulletin of the Northwestern University Medical School which is now freely available in PubMed Central.
These displays complement the larger Places and Spaces: Mapping Science exhibit on Level 2 which is showing from May 14 to September 23, 2015.
The "Visualizing Science at FSM" visualizations are examples of work being done by the Metrics and Impact Core at Galter Health Sciences Library. If you are interested in how visualizations like these could assist you in your research at Feinberg, please contact Kristi Holmes, PhD (Core Director and Associate Director of Evaluation, NUCATS) or Karen Gutzman, MA, MS (Impact and Evaluation Librarian).
back to top
Updated: July 7th, 2015 09:39