Library Notes 60: January 2010
Library Notes 60: January 2010
---
Library Notes is a publication of the Galter Health Sciences Library that focuses on news, services, and technology advances affecting the Feinberg School of Medicine community.
---
New Electronic Resources for 2010

You asked, we delivered. See what's new in electronic journals and books for 2010.

---
The Library Website - One Year On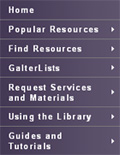 One year ago, the Galter Library unveiled its newly-redesigned website, but we didn't stop there. Find out about the improvements we've made in the past year.

---
New Study Zones and Cell Phone Guidelines

The library has developed a clearer policy on noise levels which addresses where you can collaborate or find a quiet place to study as well as revised guidelines for cell phone use at the library.

---
New Book Titles Added in December

Check out new book titles in neurosciences, oncology, orthopedics and more.

---
Recent Faculty Books Acquired

The Galter Library has acquired some recent books authored by Feinberg School of Medicine faculty.
---
GalterLists Featured as an Inventive Program in Library Journal

GalterLists, the library's customizable lists and tagging tool, was recently featured in Library Journal, a publication of the American Library Association.

---
Upcoming Library Classes

Do you need training or a quick refresher on EndNote? Perhaps you have a conference to attend and would appreciate some tips on creating a poster. Check out our upcoming classes schedule for educational opportunities offered by the library.

---
Updated: January 7th, 2010 04:04